Fewer than half of its staff members would recommend the University of Otago as a great place to work, a survey has revealed.
And 18% of respondents say they have been bullied or harassed at work in the past six months, a result acting vice-chancellor Prof Helen Nicholson said was too high.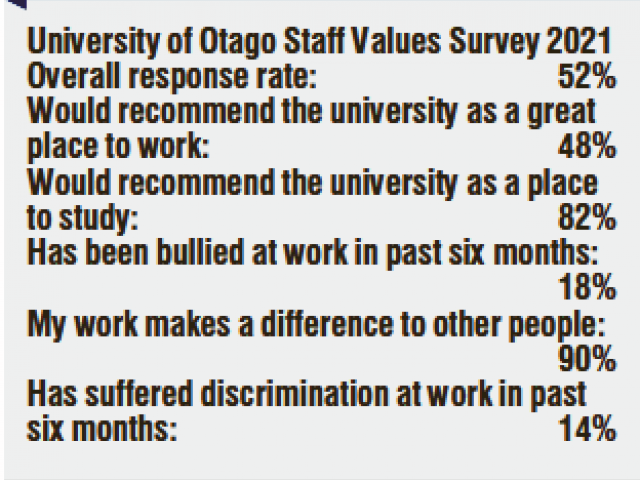 This year the university conducted a Staff Values Survey, which takes place every two years.
It received 2626 responses out of 5066 invitations, or a 52% response rate.
Among the key results were that 48% of university staff said they would recommend the University as a great place to work, while 21% would not.
In 2019 when the last survey was completed, those figures were 44% and 28% respectively.
Staff were more positive about recommending the university as a place to study.
Eighty-two percent agreed with that statement, compared to 74% last time, while 4% disagreed, down from 7% in 2019.
Prof Nicholson noted that there had been some improvement in the area of bullying. Figures for those who said they had been bullied in the past six months dropped from 21% 2019 to 18% in 2021.
That was still too high, she said, and she urged staff to make addressing that a priority in the next two years.
Prof Nicholson announced the results to staff on September 28.
"I was pleased to be able to show staff the improvement since our first survey two years ago, especially given the challenging background to the survey, with the pandemic impacting us over the past 18 months.
"However, staff have also made it clear that there is still room for us to improve their working environment."
Divisions and departments were being asked to look at the survey details that applied to their staff and plan how they would be addressed.
The survey showed that staff felt most strongly that their work made a difference, 90% agreeing with that statement.
Tertiary Education Union Otago branch president Craig Marshall described the results as troubling.
"The level of satisfaction with the university is lower than I think most people would like.
"You can see that people believe in the university, but they're not so convinced it's a good place to work."
He believed a combination of high workload and not enough consultation with staff had contributed to the results.
He was also disappointed at the number of people saying they had experienced bullying and harassment.
Many of the metrics were moving in a slightly more positive direction, and he said the university had recognised that things were not as good as they should be and issues needed to be addressed.
"That's something of a start," and an encouraging trend, he said.
He also pointed out that the issues reflected an underlying problem of a lack of government funding.
The university recently called for voluntary redundancies, as it continued to grapple with financial challenges.