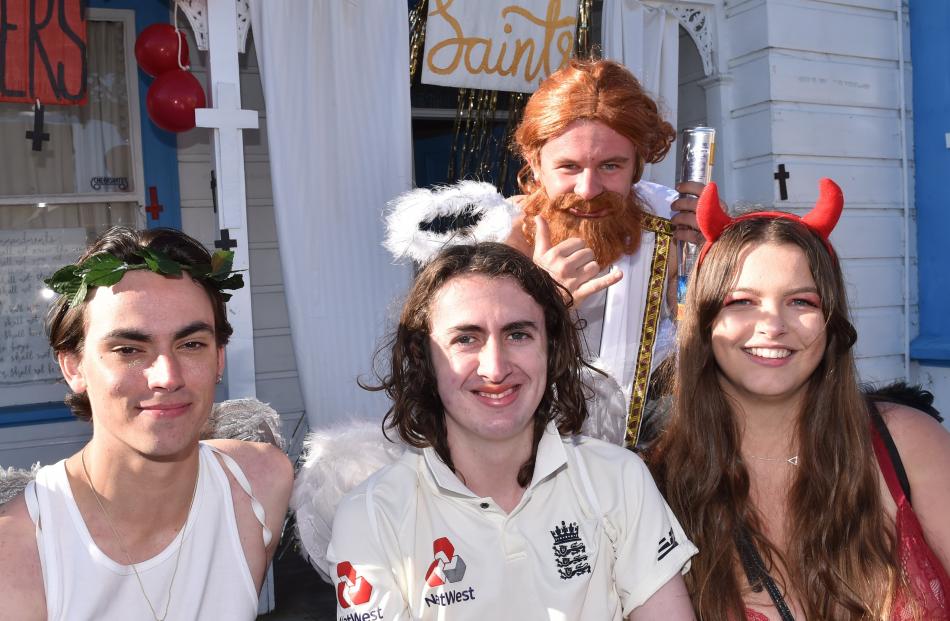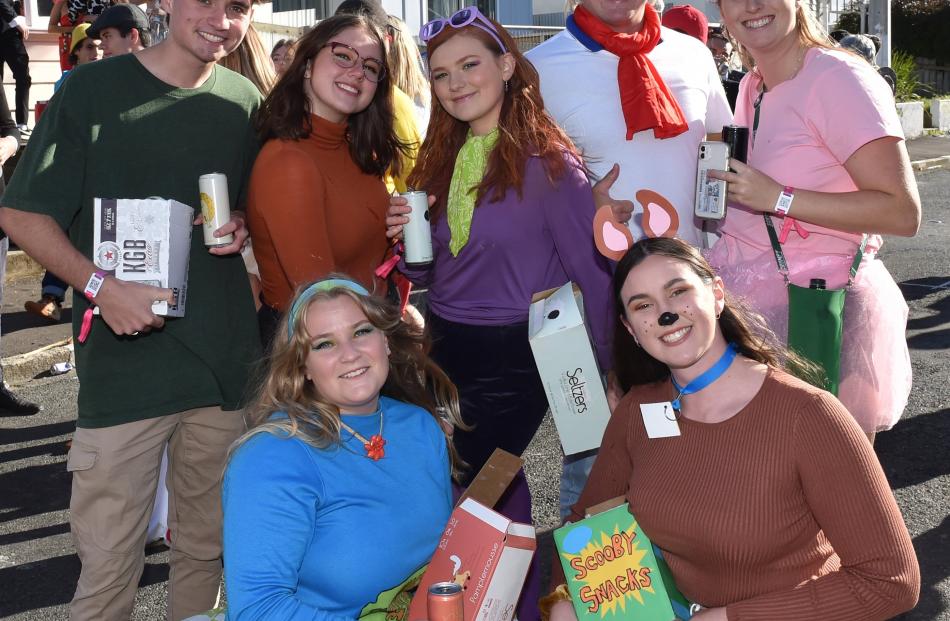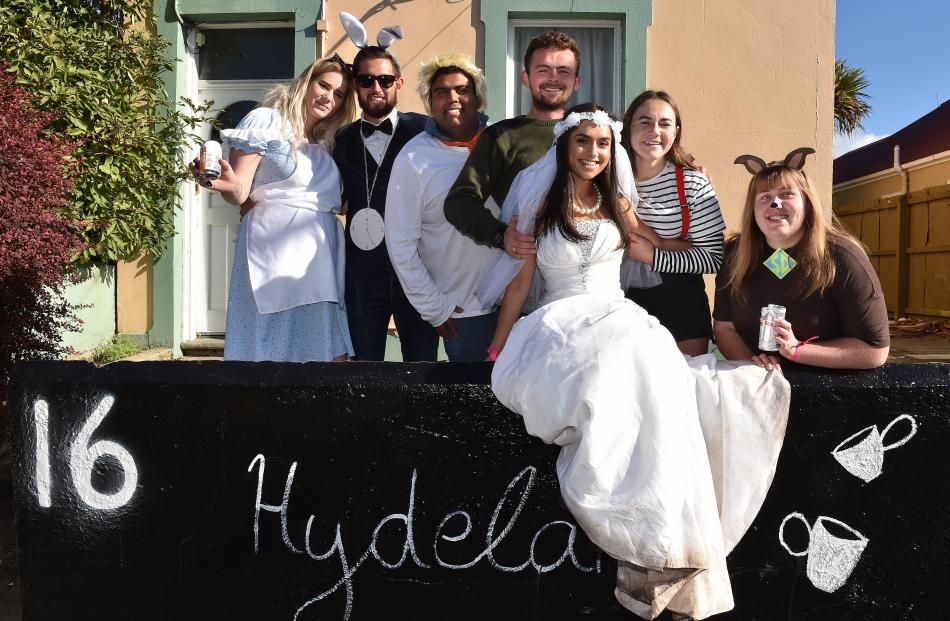 A bevvy of people were booted out of Dunedin's Hyde St party for using fake wristbands.
Police are investigating the source of the counterfeit bands, which were used to gain entry to the annual student knees up on Saturday.
Senior Sergeant Craig Dinnissen said 43 people were kicked out of the party for a variety of reasons, including fake bands, indecent exposure, intoxication, and disorderly behaviour.
Those kicked out would be referred to the Proctor.
On Saturday early morning autumnal chill were quickly brushed aside by enthusiastic party-goers.
Lara McColl (19), of 25 Hyde St, did not have far to go to take part in the fun and was, by about 10am, enjoying a fairly quiet start to the day, having begun her own celebrations about 8am.
The party officially began at 9am, and her flat had embraced one of the party day's many themes, Saints and Sinners.
"Just everyone getting together and having a really good time," and meeting "new people" was what she looked forward to, she said.
She also appreciated the security measures organised by the Otago University Students' Association, including higher back fences in the area, to increase safety.
Another flatmate, Ciarnan Naylor, said the day had been "pretty good".
"When the sun was out, we were out in the street having a good time."
Forty OUSA student support people wearing pink "Are You OK?" T-shirts were helping party-goers. OUSA president Michaela Waite-Harvey and finance and strategy officer Josh Meikle also attended, resplendent in bright yellow banana suits.
Yellow-jacketed police and security staff provided further support, and the usual tidal wave of colourful costumes included many fairy outfits, including some red wings, and students wearing an elegant tuxedo and a stunning white wedding dress.
After starting quietly, in terms of numbers, the party had still not reached the 3600 expected capacity by early afternoon.
"It's actually been pretty mellow this year," OUSA marketing and communications manager Ingrid Roding said.
"It [attendance] has been building up, but there's a good vibe and everybody's well behaved," Ms Roding said.
A police spokesman said 20 officers were on duty, but by noon only one incident had been reported, of some people in costume drinking in Cumberland St.
Water and free food were available throughout the day, and the first on-site drug testing station linked to the annual party was run by Know Your Stuff NZ on Friday and Saturday.
OUSA events and operations manager Jason Shroeder said the party was "a unique student event" and the OUSA's role was to ensure it was held "in as safe and controlled a manner as possible".
He thanked city stakeholders and Hyde St residents for making it "an enjoyable and incident-free day".
A Dunedin Hospital spokeswoman said by 5.30pm only four people had presented at the hospital emergency department, with minor to moderate injuries.
A concerted, collaborative effort, including from the university, had produced a "certainly much better managed" event, and the hospital outcome contrasted with the "carnage" seen years ago, she said.
Senior Sergeant Anthony Bond said police were pleased with the behaviour of most people who attended, and no-one had been arrested.
However, police were still concerned about the number of young people drinking to excess.
Police had removed 43 people from the event, most for not having a wristband and/or ticket, 10 for behaviour-related offences and two people for climbing on to roofs.
Of those removed, about six were given formal warnings for trespassing, or referred to the proctor's office.
A checkpoint was also set up and more than 200 drivers were breath-tested, but no-one was processed for drink-driving.