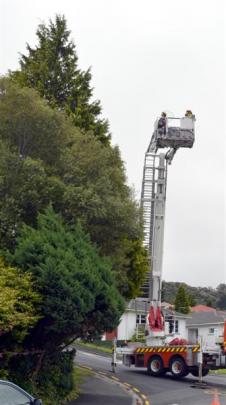 There was no way Moo Moo was coming down on her own.
Firefighters were called twice to rescue 11-month old cat Moo Moo yesterday after she climbed a tree in Kaikorai Valley Rd, Dunedin.
Moo Moo went missing at 9pm on Monday and her 11-year-old owner Ginnie McColl and her mother Bindi Leech were worried until they heard meowing coming from outside at 2am.
On further investigation, Moo Moo's yellow eyes were spotted by torchlight, 25m up a tree next door.
Ms Leech immediately called the Fire Service, but a firefighter who climbed to within about 3m of Moo Moo was unable to dislodge her.
In the morning, a call to the SPCA resulted in another Fire Service callout, and this time Senior Firefighter Peter Hessian and Station Officer Kerry McNamara from the city station were dispatched with the turntable ladder.
With ''slightly nervous'' SPCA inspector Julie Richardson on board, Mr Hessian raised them to the top of the tree, where an equally nervous, but ultimately grateful Moo Moo was plucked from her perch with little fuss.
Reunited with the curious cat, Ms Leech said her daughter, who was away with her grandmother for the day, would be delighted no harm had come to her beloved pet.
''We are just so thankful. Everyone has been so great.''