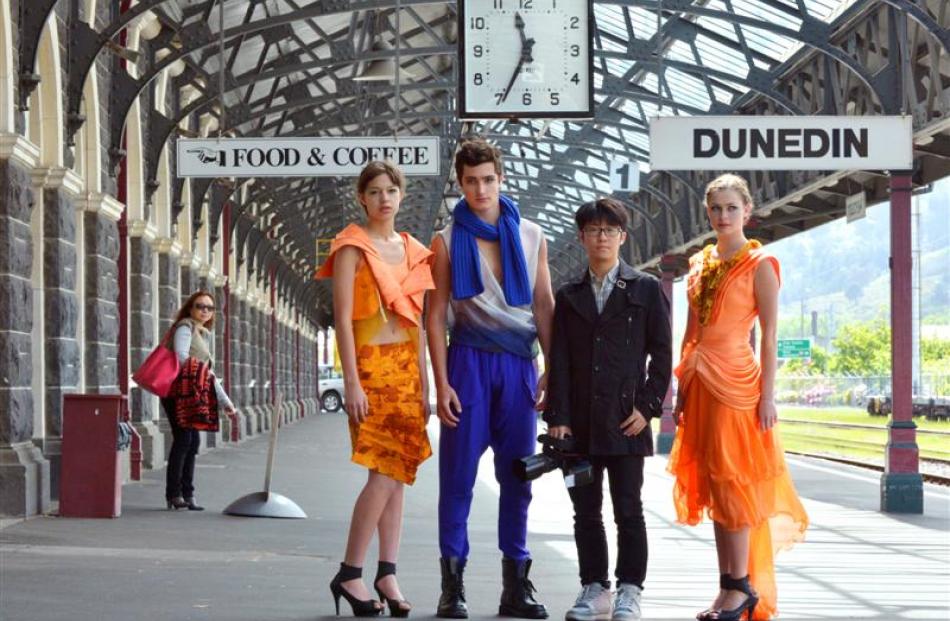 Ten fashion students from China are in Dunedin this week as part of a collaboration with Otago Polytechnic, which saw six of its students visit Shanghai last month.
The students from the Shanghai University of Engineering Technology (SUES) are having their garments photographed around Dunedin, including at Dunedin Railway Station yesterday.
The students' arrival on Friday followed a show with Otago Polytechnic fashion design students at Shanghai Fashion Week last month.
Parts of that show will be re-created at the 21st anniversary edition of the polytechnic's end-of-year fashion show, Collections 12, which the Shanghai students will be taking part in on Friday.
Otago Polytechnic's fashion academic leader Margot Barton said the polytechnic was "really excited" to host the students after its students had "a fabulous experience in Shanghai".
Shanghai fashion student Eric Xuweyu, speaking through a translator, said the trip to Dunedin had exposed him to Western culture, which along with Dunedin's architecture, would provide him with inspiration for new designs.
The most exciting part of the trip so far had been seeing animals on farms on the way from the airport, Mr Xuweyu said.
Dunedin was "peaceful and quiet" as opposed to China, which was "busy and noisy".
The garments he had brought to Dunedin were inspired by the colour green, which represented nature, and the autumn season, he said.
The Shanghai students' visit comes after garments designed by the Otago Polytechnic students were photographed in some of Shanghai's most interesting locales, with the photos from the sister cities to be made into a book.
The project would also form the basis of an academic paper.
Collections 12 takes place at 8.30pm on Friday at 102 Anzac Ave (the former Display n Sell building).