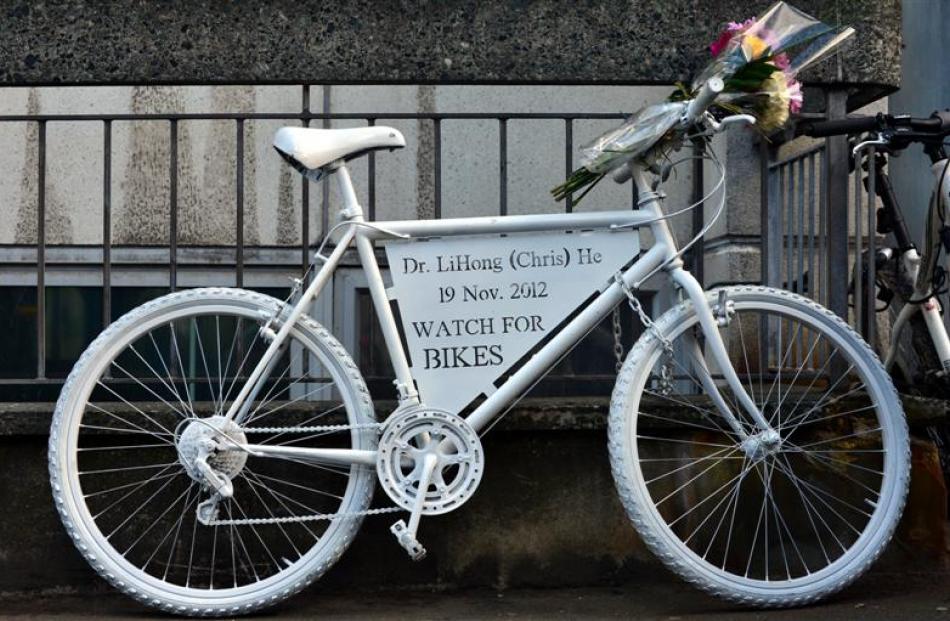 A cyclist's life is more valuable than car parks, Dunedin deputy mayor Chris Staynes said yesterday at a memorial ceremony for a Dunedin cyclist killed when fell under a truck.
Cr Staynes spoke to about 200 people at a ceremony to unveil a plaque in memory of dentistry lecturer Dr Li Hong ''Chris'' He, outside the Cumberland St entrance of Dunedin Hospital.
Dr He was killed nearby in November last year when an opening car door knocked him into the path of a stock truck.
Cr Staynes said the death had resulted in the Dunedin City Council, the New Zealand Transport Agency and cycle advocacy group Spokes Dunedin working on a proposal to separate cyclists from heavy traffic on the state highway one-way system in Dunedin.
He was surprised that, with the consultation not yet having started, many Dunedin residents were ''bemoaning'' the potential loss of parking spaces.
''Surely parking is far less valuable than a life.''
Associate Transport Minister Michael Woodhouse said at the event he was ''encouraged by the accelerated progress'' on the separated cycle lane proposal.
He was committed to removing any ''barriers'' to getting the plan implemented, he said.
''That's the tribute that we can pay to Chris. That's the legacy out of this tragedy.''
Spokes Dunedin secretary Dr Robert Thompson told those gathered almost every cyclist had been nearly knocked off their bicycle by an opening car door.
''It happens to the most experienced cyclists and Chris He did nothing wrong that day. It could have been anyone who rides a bicycle in Dunedin.''
University of Otago faculty of dentistry deputy dean Prof Tom Kardos, said the council had made ''a step in the right direction'' by providing cycle routes in Dunedin, but many were inadequate.
A white bicycle will be parked near the memorial until December.