If anything illustrates Dunedin's growing revival it's this - a decayed 140-year old building being redesigned by a local high-achieving student.
The building, an old Crawford St stables believed to date from the 1870s, was most recently used by an auto-repair business in the early 2000s.
The designer was a third-year Otago Polytech design student who saw the building's potential.
The result will be realised this autumn when the building has been strengthened, renovated and refitted as a microbrewery and tasting room.
The project's designer, Charlotte McKirdy (27), said she was made aware of the building's plight in 2014.
She was searching for a final project for her bachelor of design degree while family friend and business owner Ian McKinlay was considering the building's future.
The challenge was to find a way to transform a crumbling 140-year-old stables into his long-term dream of a brewery.
The building carried a consent for demolition, but Miss McKirdy had other ideas.
"I wanted to do a heritage re-use project and at the time Ian was sort of deciding whether [the building's renovation] was viable or not.''
She came up with a concept and floor plans "to basically show what that potential was''.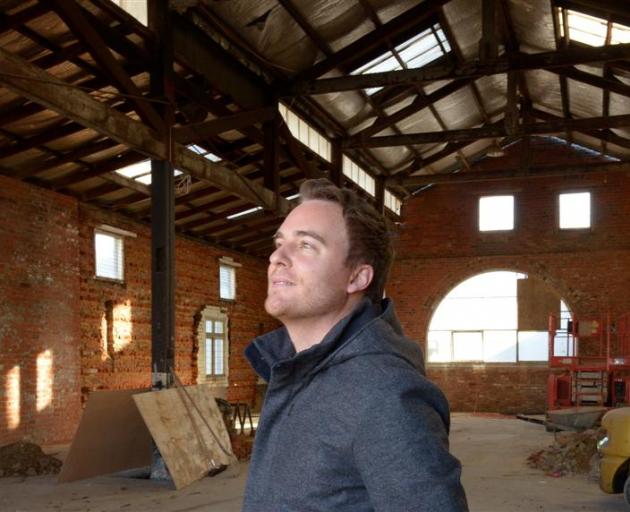 The building's high ceilings and large openings allowed a design that was "pragmatic'' for a brewery operation but still sympathetic to the building's original form, she said.
"Really, the building has always been grounded in trade so it's always been a pragmatic building. So it was really bringing it into the current century. We wanted to showcase it and show this little old building can be really exciting.''
That marriage between new ideas and old buildings was "certainly becoming a part of [Dunedin's] identity'' Miss McKirdy said.
"It's definitely something that's being fostered in Dunedin now. Though it's a lot more work and effort, the culture and the spaces and the architecture that comes from creative re-uses can be much much more exciting than a new building.''
The city now seemed aware of its unique potential, she said.
"You can see the culture changing and you can definitely see the public starting to take an interest. And it creates a pride in our own history as well.''
Mr McKinlay said when the site was bought in "the early 2000s'' the stables were almost invisible from the street.
Their future was bleak but he had always wanted to have a brewery and the building seemed a good fit.
"This just looked like a brewery. It looked like it needed to be a brewery.''
While renovation was more difficult and expensive than a new building, Mr McKinlay said he had no regrets.
"It's definitely going to be worth it once it's all done. It probably didn't make financial sense but it gives our brand an identity and a home. And a really cool one.''
---
Heritage restored
• An 1870s cobbled floor has been retained and will be re-laid as an outdoor courtyard.
• The stables' original brickwork has been retained and restored.
• Bluestone found on site has been used to fill a hole in the walls made by a garage door.
---