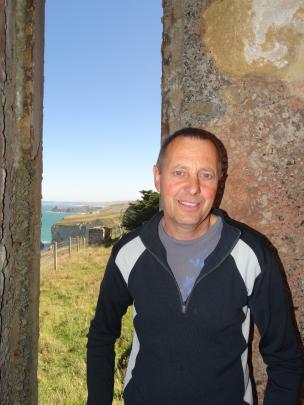 On a glorious Dunedin day, high on the cliff-tops above the ocean, the ruins of Cargill's Castle stand stark against an blue sky. Plans to stabilise and develop access to this important historic site are up for discussion next week. The Star chief reporter BRENDA HARWOOD took the chance to visit for a look around.
A plan to re-establish a clifftop walking track between Cargill's Castle and Tunnel Beach will be tabled for discussion at a meeting next week.
Cargill's Castle Trust chairman Steven de Graaf said local residents and the wider public were invited to hear about the plans and air any concerns at the meeting, which will be held on at 7pm on Wednesday, at St Clair Golf Club. In December, the Cargill's Castle Trust was awarded a $5000 grant by the New Zealand Walking Access Commission to assist with legal fees and survey costs for the proposed 2km clifftop route.
Mr de Graaf said the plans were moving ahead but negotiations with the Dunedin City Council, the golf club, and residents were ongoing.
''We are keen to have this meeting so that we can make sure everyone is aware of our plans and can have their say,'' he said.
Built in 1877 on the St Clair clifftops, Cargill's Castle was originally occupied by prominent Dunedin business man and politician Edward Bowes Cargill and his family. They had a pathway laid from the castle to Tunnel Beach, which the trust is keen to restore.
The Cargill's Castle Trust was established in 1997 to stabilise the
ruin, develop the surrounds as a clifftop park, and provide walking access for the public.
''If we can make the castle ruin stable and safe, and landscape the grounds, it could be a great space for picnics and concerts,'' Mr de Graaf said.
To keep its plans moving forward, the Cargill's Castle Trust needed fresh energy, particularly for fundraising, and was looking for members to come on board, he said.
''It would be great to have some new, committed and energetic people to help us push things forward.''
For information visit www.cargillscastle.co.nz