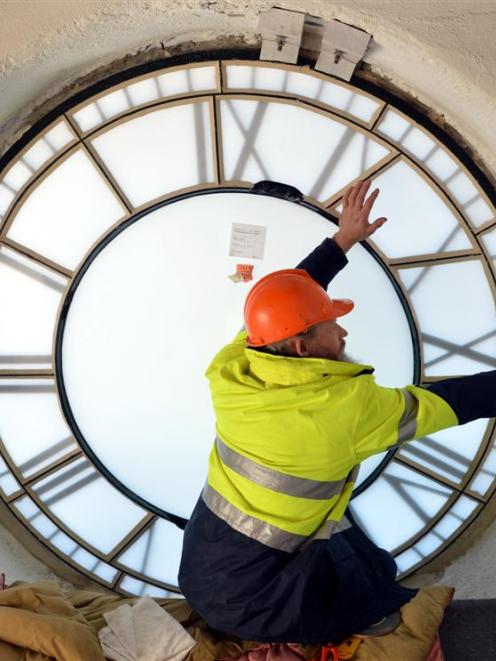 Fitting 100 individually cut pieces of French-made glass into the four sides of the Iona Church clock face was a nerve-racking job, says the ''elated'' specialist glazier who carried out the task.
Part of the restoration of the category 1 historic church, the clock face has been restored with white flashed opal glass from France.
Peter Mackenzie said the glass was cut especially for the 100 spaces, each a slightly different shape.
''It was pretty hair-raising. I didn't have a lot of [spare] glass up my sleeve. I had to do the cutting pretty much perfectly with no mistakes to get the job done. So it was a little fraught.''
Fitting the glass took a couple of weeks, and was finished yesterday.
The clock faces had been ''a bit of a mess'' previously, because of the different types of glass that had been used over the years.
''It looks gorgeous ... It looks absolutely heavenly,'' Mr Mackenzie said.
New dials were also sourced from France, with a fifth one ordered in case a spare was ever needed.
In the next couple of weeks, the clock would be marking the hours once again, after a visit from the clockmaker to reinstall its mechanisms.