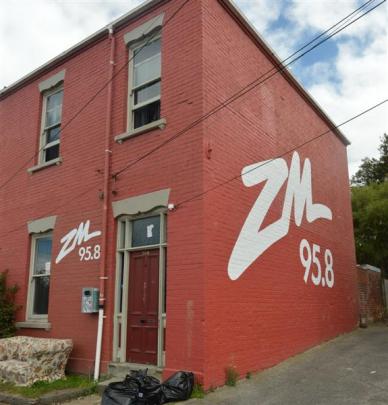 A radio station is accusing the Dunedin City Council of being the ''fun police'' after reluctantly agreeing to remove its logo from a Dunedin student flat.
This comes after the council earlier this year objected to a radio station owned by The Radio Network having its logo on two sides of a Castle St flat as part of a sponsorship arrangement.
Station promotions manager Paul Lawrence said it was unfair it had been singled out when other companies had logos on student flats.
This included a Dundas St flat sponsored by an energy drink brand and another in Clyde St sponsored by a bank, Mr Lawrence said.
After arguing its case, The Radio Network agreed last month to remove the logo - which it would do soon - as it would have cost about $6000 to apply for a resource consent.
''It's a major disappointment for us. We are pretty upset this is how it has come to an end after five or six years of [other flats doing] exactly the same thing.''
The sponsorship did no harm and this was a case of the council being the ''fun police'', he said.
Council resource consent manager Alan Worthington said the issue was clear-cut for the council.
''It was drawn to our attention and basically we were compelled to have a look and they had a choice. They could either apply for consent or remove it.''
The council had assessed the other two flats and, as a result, it had asked for an energy drink logo to be removed from a roof.
''The rest of the flat does not trigger rule breaches that require further action,'' he said.
The other flat had a ''very loose visual association'' with a bank, which did not require any corrective action.
Each of the three flats had been subject to the same level of assessment. On the accusation the council was being the ''fun police'', Mr Worthington said: ''I don't see a sign as being fun.''
It was quite different from the practice of students naming their flats, which was not under threat.
''This is not about naming a flat. It is clearly a marketing exercise. It's a hoarding as defined by the district plan.''
He noted media attention meant the radio station had gained ''plenty of advantage out of the illegal signage''.