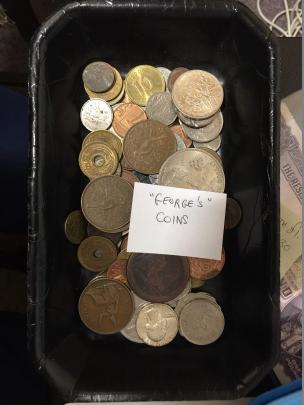 A Mosgiel coin collector who fell victim to a mysterious thief last year says the person who took a box of gold coins will not be able to sell them.
Southern District Police issued a statement yesterday asking for help in finding a man calling himself George.
He visited Otago Coin International, in Mosgiel, on August 22 to sell coins and buy a gold sovereign.
The collector, Johnny Lindsay, and "George'' spent about an hour discussing coins, and the collector showed him a variety of gold coins.
When the collector's attention was diverted, "George'' grabbed the coin collection and ran from the building, police said.
Mr Lindsay said it was the man's second visit and he had begun to like and trust him.
The box of about 45 gold coins had been collected over about 35 years.
Mr Lindsay doubted the thief would be able to sell them.
They would stand out, and they were "just so valuable''.
He had reported the crime immediately, but police were making a public appeal now because the thief had not been caught.
The coins were in a rectangular blue case and were from the United States, Austria, the Netherlands, France, England, India, Colombia, Spain, Denmark and Sweden, dated between 1700 and 1900.
The collection also includes 1870 Sydney sovereigns.
Each gold coin was in a plastic sleeve with a description.
The coins were of "significant monetary and sentimental value''.
Mr Lindsay described the thief as softly-spoken, "meek and mild''.
He was aged between 25 and 35 years, of slight build and between 167 and 170cm tall.
He had short dark hair and was unshaven. He was wearing an orange, sleeveless high-vis vest with a dark-coloured jersey and trousers, as well as a black beanie and gloves.
The offender was last seen riding a mountain bike eastward in Church St, Mosgiel.
Police believe the man lived in Dunedin or Mosgiel.
Dunedin Police (03)471-4800, or Crimestoppers 0800 555 111.