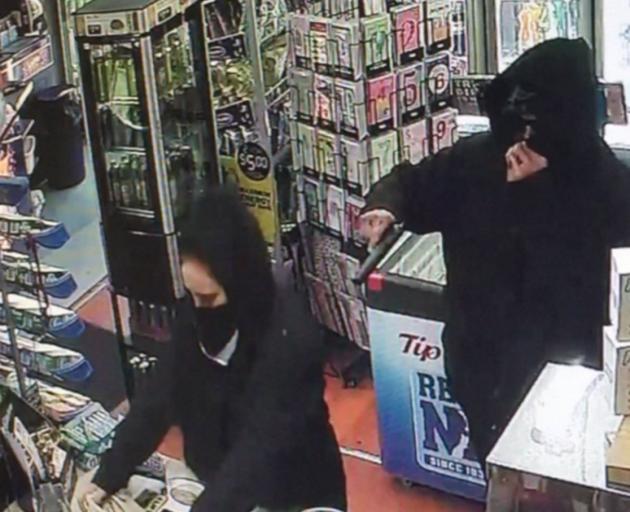 Three criminals who terrorised Dunedin shopkeepers with an air pistol have been jailed for several years for two armed robberies and an aggravated burglary.
The spate of crimes took place in June and July this year.
Shyanne Maree Oliver-Baker (20) and Andre William Goddard (28) were sentenced for robbing Musselburgh Dairy, taking cash, cigarettes and tobacco pouches.
Oliver-Baker, Goddard and their codefendant Cyenna Diane Grace-Ngaro (20) also robbed the Elgin Food Market, and burgled the Stadium Store in St Kilda, again taking cash and goods.
There was a heavy police presence in the Dunedin District Court when the trio appeared in the dock yesterday afternoon.
At one point Grace-Ngaro was removed from court by police, after she began laughing.
Judge Kevin Phillips said it was disrespectful to the victims, some of whom were in court.
On June 7, Goddard and Oliver-Baker went into the Musselburgh Dairy when there were no customers, wearing dark clothing and with their faces partly covered.
Oliver-Baker placed a pillowcase on the shop counter which the victim filled with notes and coins, while Goddard pointed an air pistol at her.
Goddard demanded cigarettes and tobacco, and Oliver-Baker took confectionery.
More than $300 was stolen from the till, and goods taken totalled $2847.
A victim adviser read out a statement from the woman, who was in a state of ''complete terror and fear''.
''I knew anything could happen. I was terrified they might jump the counter and attack me.''
For two or three days after it happened, she kept reliving it, and ''fell into a black hole of depression'', she said.
During the burglary of the Stadium Store in St Kilda on July 15, Oliver-Baker acted as getaway driver while Goddard and Grace-Ngaro went inside, again taking cigarettes, cash and confectionery.
Grace-Ngaro tucked a butcher's knife into her trousers and the pair again partly covered their faces. No-one was in the store at the time.
When contacted yesterday evening. Stadium Store co-owner Xukun Ji said he was pleased with the length of sentences handed down, but he remained angry at the robbers.
''We've got our kids in the back ... they put my family in danger.''
Goddard and Grace-Ngaro robbed the Elgin Food Market the following day while Oliver-Baker again acted as a getaway driver, taking a till drawer containing nearly $3000.
Elgin Food Market owner Sunny Sun said last night she was pleased those who robbed her store would be going away for several years.
Judge Phillips said Goddard played a lead role in the offending, and there was a high degree of planning involved.
Goddard, who was sentenced for two unrelated thefts from petrol stations at the same time, was jailed for six years.
Judge Phillips took into account Grace-Ngaro's dependence on drugs and alcohol, childhood trauma and abuse, and ''personality difficulties'' when sentencing her.
She had previous convictions for burglary, he noted.
Grace-Ngaro was sentenced to three years and six months in jail, for her role in the burglary and robbery and for a series of unrelated offences which Judge Phillips described as ''premeditated and calculated''.
Oliver-Baker, who had two children and no previous convictions, received a jail term of four years. Her lawyer Sarah Saunderson-Warner described her as a ''naive'' person who had left school at the age of 14.