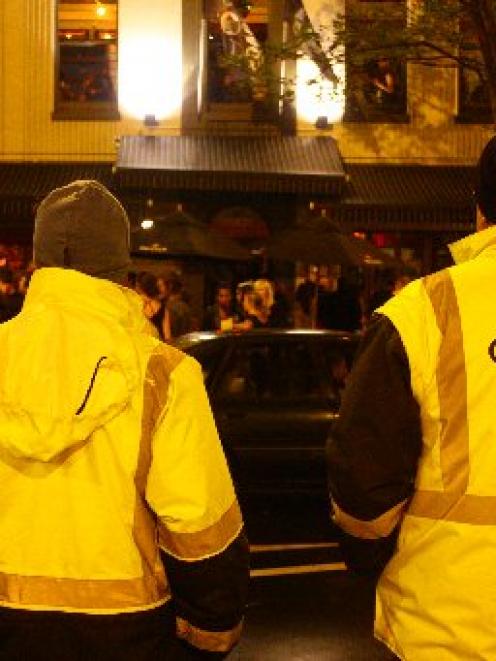 Dunedin Mayor Dave Cull is standing by the council's decision to axe the safety officer programme from the council's draft annual plan after an Octagon bar owner called the move "short-sighted" and "ridiculous".
Dunedin introduced safety officers in November 2003 and officers patrolled central city areas on Friday and Saturday nights from September to April or May.
The council made the decision not to include funding for the 2012-13 year after the Government Crime Prevention Unit decided to stop funding support of $65,000 a year it gave towards the programme.
Faced with having to pick up the shortfall, the council elected to withdraw all funding from the programme, saving the council $56,500.
This means that unless the council has a change of heart, the programme will be axed come April or May.
Terrace Bar owner John MacDonald said the decision was "short-sighted" and "ridiculous" and that unless someone else stepped in to take up the role the council would have to "look at reintroducing it" in future.
The safety officers did an "excellent" job keeping people safe and often prevented situations from getting out of hand.
"They are in regular contact with police [and] they have been quite beneficial, as far as I can see," he said.
He said he doubted whether police would be able to fill the gap left by the removal of safety officers.
"The police are busy as it is. They haven't got a lot of personnel to just be wandering the streets, as the safety officers have been doing."
Mr Cull acknowledged the programme helped make town a safer place, but said law and order was a job for police and not for local authorities.
"I would venture to suggest that the responsibility rests in the first instance with police and if there are bar owners whose bars experience trouble, they could take responsibility for their own security.
"Why should we have to fund another police force to do ... [police's work] for them?" he asked.
It was a "question for police" as to whether they increased their presence on the street to fill the gap left by the axing of the safety officers.
"I recognise police have resourcing issues, but if local bodies keep stepping in and filling the gaps, then central Government won't ever be in a position where they have to confront the need for more police."
Senior Sergeant Mark Crawford said the safety officers were an "extra set of eyes and ears for police" which had been "useful in defusing situations and providing assistance to prevent potential criminal offending".
Police did not comment on whether they would put more officers in the street to make up for the absence of safety officers.