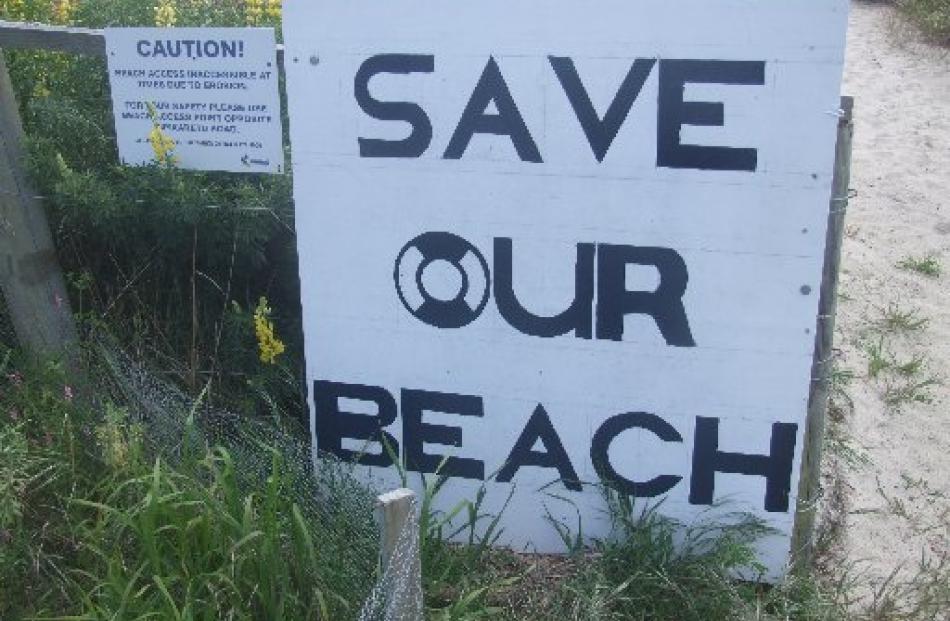 As more of Te Rauone Reserve crumbles into the sea every day, an Otago Peninsula beach preservation group is concerned about how long it is taking the Dunedin City Council to consider a plan to install a rock groyne there.
Te Rauone Beach, near the mouth of the Otago Harbour, has had problems with erosion for more than 50 years.
It has got to the point where the edge of the Te Rauone Reserve, which has a playground and public toilets, has begun to collapse.
"Parts of the the DCC-owned reserve have been falling into the sea for at least the last five years," Te Rauone Coastal Care Group chairman Hoani Langsbury said.
Mr Langsbury said his group had been discussing erosion with the city council and other groups since 2004.
Two years ago, it presented the council with a research-based plan to rejuvenate the reserve.
A rock groyne was proposed to keep wave energy away from the north end of the beach.
The groyne was estimated to cost around $160,000.
A $200,000 dune reconstruction plan was proposed to undo the damage done by years of erosion.
Mr Langsbury said about 30% of the land protected by the proposed groyne belonged to the city council.
Under the plan, the city council was asked to contribute proportionate funding. The Te Rauone Coastal Care group was able to bear part of the cost, and Port Otago had committed to share the dune reconstruction cost.
The Otago Regional Council had indicated it would not contribute directly.
However, the regional council owned Port Otago, Mr Langsbury said.
City councillor Jinty MacTavish said the council discussed the reserve at an annual plan meeting in May.
Councillors resolved to ask the Otago Peninsula Community Board to arrange a meeting to seek information and discuss potential solutions and funding.
Crs Kate Wilson, Bill Acklin, Andrew Noone, and MacTavish, attended the meeting at the reserve on September 20, along with members of the Otago Community Board, Port Otago and the coastal care group.
Mr Langsbury said he believed the Te Rauone Coastal Care Group had presented the council with answers to all its questions about the project at the on-site visit.
"Now it's more about finding funding for it," he said.
The council will next consider the matter at its January annual plan meeting.
A Port Otago representative could not be contacted for comment.
- Jonathan Chilton-Towle