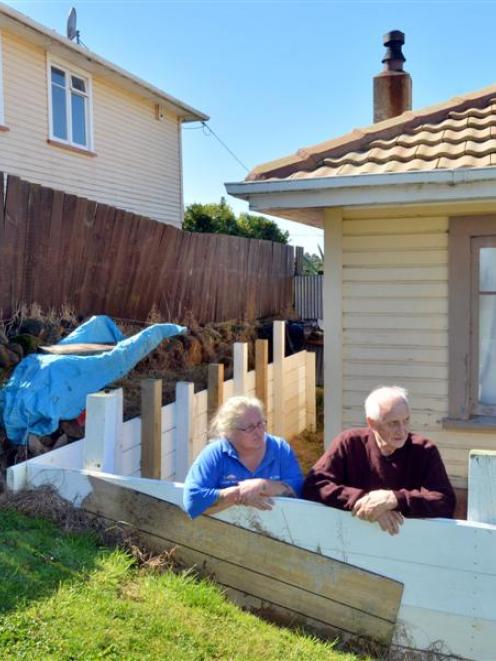 For seven years, Rose McRobie has been trying to get an answer from the Dunedin City Council. But neither she nor her property can wait any longer.
''Seven years ago we got flooded out downstairs ... We got the council in to see where all the water came from.
''They said they would look into getting all this sorted out and every year since then, we have been fighting them to try and get them to resolve it,'' she said.
Miss McRobie's father Donald (80), has owned the two-storey Lindsay Rd, Caversham, house they live in for the past 42 years.
This summer, when the flooding issue returned, water in the backyard caused a bank to collapse and she had to have a retaining wall installed.
''My father should be able to sit outside in his back garden and enjoy his retirement, not be worried about what part of the bank is going to fall down today and thinking `oh God, here's another winter','' Miss McRobie said.
Dampness had become an issue in the house, particularly in winter, and mould was growing on the downstairs walls.
She was fed up with fighting the council and just wanted ''the council to do their job''.
''I'm just at the end of my rope,'' she said.
Water running through the section was pushing clay through the back wall of the garage at the front of the property and had brought down a retaining wall on the road boundary in the past.
''Every time it rains it's like 's..., is the house going to come down?'.''
Council group manager regulatory services Kevin Thompson said last week although his group managed groundwater issues, he had not heard of Miss McRobie's plight.
Miss McRobie said she had spoken to staff from the council's water and waste group and was never told she needed to contact regulatory services.
Mr Thompson said she should have been ''pointed in our direction''.
Contacted by the ODT again yesterday, Mr Thompson acknowledged the high level of concern and anxiety voiced by Miss McRobie, and said he would look into the matter.
A seepage officer from regulatory services would visit the property this morning to check the situation, he said.
They would attempt to identify where the water had come from and options would be explored.
Council waste and water staff could not be contacted yesterday.