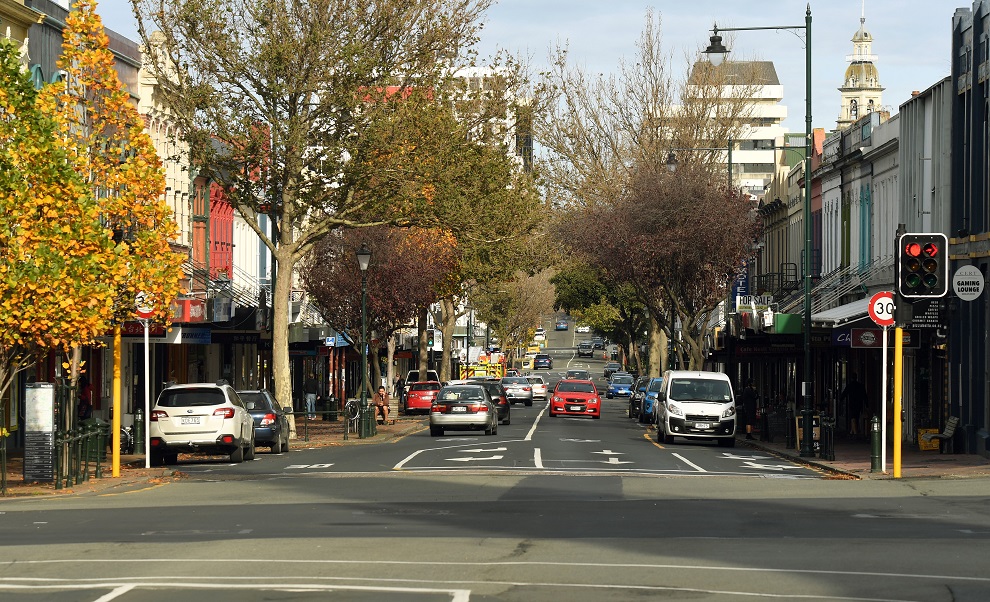 Construction works for Dunedin's multimillion-dollar central city upgrade could start next month, before the final design for the main street has been settled.
The substantial project of work is due to finish in 2024 and it looks likely to begin this year, but starting in the area around rather than in George St, the city's main shopping street.
Changes could range from new turning bays into multi-level car parking buildings to a main street with a cobblestone appearance, but details have not been confirmed.
Traffic could be travelling one-way only in George St at 10kmh in a setting resembling a court or campus more than a road.
Alternatively, an asphalted two-way George St could end up getting the go-ahead.
Whatever the appearance above ground, below it, 150-year-old pipes are due to be replaced and this could cost $25 million.
Work in the city centre above ground is expected to be worth between $18 million and $28 million, depending on the final design, which may not be confirmed before February.
However, a detailed business case is to be considered by the Dunedin City Council this month.
If it gets the green light, work could start on the streets around George St in October.
The work in George St itself is set to begin early next year.
Changes are planned for the bus route in Great King St, because George St will be unavailable during construction.
The council aims to improve the flow of traffic from east to west where George St intersects with Frederick St, Hanover St, St Andrew St and London St.
Access to the Meridian Mall car park is expected to change and more bike parks and e-bike charging stations are planned for the central city.
Councillors are expected to be presented with traffic-modelling information before they decide on one-way traffic in George St.
Automobile Association Otago district council chairman Malcolm Budd said making George St one-way would add to traffic congestion in the area.
Mr Budd was concerned about putting pressure on nearby streets such as Filleul St.
He believed a 20kmh speed limit in George St was more realistic than expecting motorists to cope with crawling at 10kmh.
He expected a two-way George St to work much more efficiently than the one-way option.
Traffic disruption associated with the building of the new Dunedin Hospital in Cumberland St could also complicate matters.
George St retailer John Bezett said a 10kmh limit in George St would be ridiculous and he backed two-way traffic.
''The council has given us no good reason why it should be one-way,'' Mr Bezett said.
He was worried not enough consideration had been given to traffic flows and parking.
Mr Bezett said it made sense to push ahead with upgrading George St if the underground infrastructure needed replacing. However, he doubted radical changes above ground were warranted.
Mr Bezett objected to past council experiments such as closing off the Octagon last year, suggesting the impact on retailers was given insufficient attention.
The council has said planned construction work around George St this year would stop in December and there would be limited work in January, to ensure as little disruption as possible over the Christmas-New Year period.