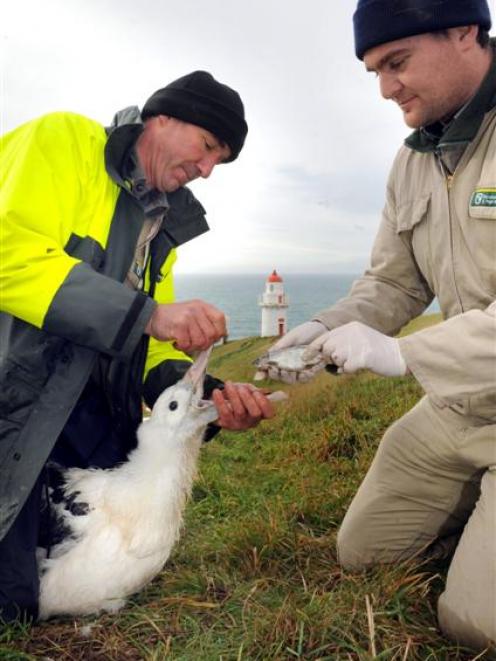 A royal albatross chick being banded by Department of Conservation staff yesterday at Taiaroa Head broke its leg and later died.
The chick, one of this season's 11 surviving chicks, was taken to a veterinarian and put under anaesthetic while its leg was bandaged, but died soon after waking, Doc community relations officer John Gordon said last night.
"Birds are more susceptible to stress than other animals."
Staff had banded nearly 400 chicks, which are endangered, at the colony on Taiaroa Head and Doc had every confidence in the procedures which had been developed during decades of handling the birds, he said.
However, procedures would be reviewed.
"It is a very unusual situation."
About 40 years ago, some chicks' legs had broken, but there had not been a problem in recent years.
During the banding process, the chicks are held on a ranger's lap with the leg not being banded tucked under their body, resting on the legs of the ranger.
The leg broken was not the one being banded and it was not yet known what caused the fracture.
An autopsy would be carried out at Massey University to see if a reason for the break could be determined, Mr Gordon said.
"It did not struggle at all, so we are puzzled."
Whether the chick had injured the leg before it was handled or if there was a congenital cause would be investigated.
The Otago Daily Times visited the colony yesterday afternoon to see the first of the chicks being banded, watching as rangers Lyndon Perriman and Colin Facer handled the albatross.
"They are both absolutely devastated, but we are confident it was nothing they did in their procedures," Mr Gordon said.
Mr Perriman said the chicks, which hatched in January or February, were starting to move around so it was time to band them to help with identification.
There was an individual number on each stainless steel band which helped in tracking their progress.
The royal albatross was a taonga species so the Otakou runanga had been notified of the death.