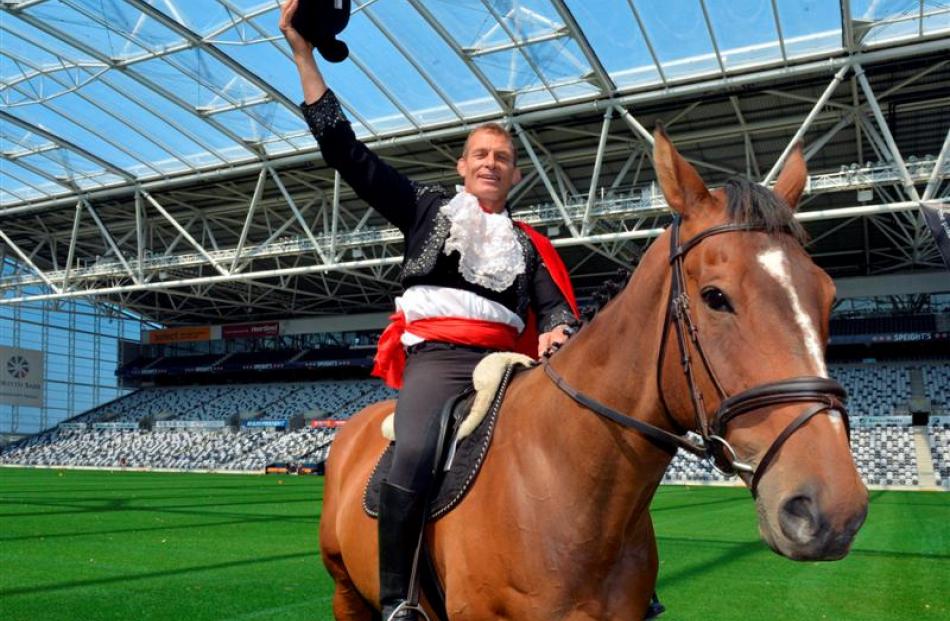 As far as first impressions go, things could not have been more amicable between opera singer Jud Arthur and Cezanne.
''That's the first time I have met him, but judging by the look in his eye he seems pretty calm,'' Mr Arthur said, when he met Cezanne at Dunedin's Forsyth Barr Stadium yesterday.
The pair will perform a European dressage display and a cowboy dressage display while Mr Arthur sings from horseback in a toreador outfit during Ride the Rhythm at the stadium today.
''It'll be fun. These sort of ad hoc opportunities are always great,'' he said.
''It's a bit different from my usual performance.''
The former Otago rugby player also represented New Zealand in showjumping in his younger days.
''I don't ride too much these days, so hopefully I won't fall off and embarrass myself.''
Working with animals made for a ''one-off performance'' as ''it's not something you can rehearse and rehearse''.
''It's always a bit different when there's a crowd and other horses around. There's different variables that come into it and it will be different each time,'' he said.
He had performed a ''similar kind of thing for the New Zealand dressage championships'' and was looking forward to the show.
''It's lovely to combine two of my passions, the equestrian side of my life and the singing side of my life, and to bring them together is a unique opportunity.''
He felt vocally prepared for the show as he had just spent a ''fairly intense'' five months performing Wagner's Ring Cycle in Melbourne and there was ''a little bit less riding'' on today's performance.
However, he did not ''want to be dumped on my butt as I'm singing along''.
Mr Arthur now lived in Sydney and said he relished the chance to come home.
''I love coming back to Dunedin ... I will always be an Otago lad ... I will always be a Highlanders supporter.''