A fire investigator says swept chimneys are safe chimneys and has sounded the alarm about dangerous disposal of ashes.
The comments, from fire risk management officer Scott Lanauze, come as a clogged chimney caught fire in Alexandra yesterday, and ashes placed in a bucket near a woodpile sparked a serious house blaze in Dunedin earlier in the week.
Fire and Emergency NZ (Fenz) statistics show this year alone there have been five chimney fires in Dunedin and three in Queenstown.
Shortly before noon yesterday, Alexandra firefighters raced to a home in Schaumann St where they were able to quickly extinguish a fire caused by a clogged chimney, before it spread.
The crew warned the occupants to sweep their chimney before firing up their burner again.
Mr Lanauze said the most common cause of chimney fires was failure to clean (39% of all such fires) - Fenz urged people with open fires, wood-burners, coal-burners, or wood pellet-burners to clean their chimneys and flues before the first fire of the season each year.
''Swept chimneys are safe chimneys.''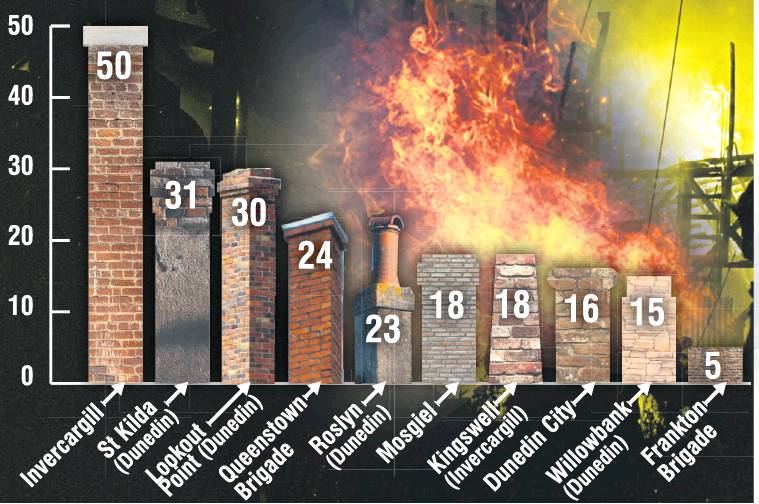 Warnings signs that a chimney was becoming dangerous included smoke filling up the room rather than escaping properly or the fire not burning as well as it normally did, Mr Lanauze said.
Also critical was burning dry, seasoned wood to reduce the likelihood of soot or creosote building up inside the chimney.
''If you have the ability to store your wood out of the weather or arrange to have it delivered early in the year, this ensures that the moisture content in the wood can be reduced, ensuring a hotter and cleaner-burning fire.''
Mr Lanauze also raised the importance of properly disposing of ashes following the fire in Tomkins St, Green Island, early on Monday.
The origin of that fire was traced back to hot ashes being placed in a plastic bucket next to a woodpile. The ashes had been fanned by winds, reigniting embers and spreading flames into the structure of the house, he said.
He urged people to remember ashes took five days to cool down, to use a metal bucket to store them aside away from structures and douse them with water before disposal.