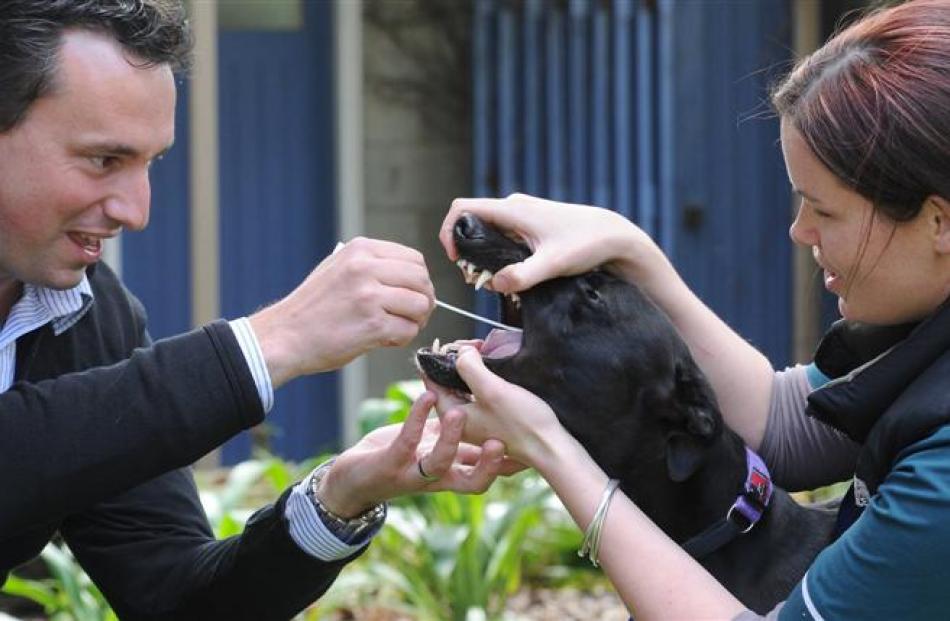 Got a beagle with bad breath? A hound with halitosis? Blis Technologies could have the answer.
The Dunedin biotech company has completed the first phase in a research programme focusing on preventing bad breath in dogs.
The Blis K12 probiotic, already known for its ability to inhibit bacteria responsible for severe bad breath in humans, had been given to dogs to determine if bad breath could be reduced or eliminated in companion animals, Blis Technologies programme leader Dr John Hale said.
The results of a small pilot study were encouraging enough for a longer, extended dosing trial, which started in Dunedin last week.
The study was made possible through collaboration with the Otago Polytechnic School of Veterinary Nursing.
Blis Technologies had already found Blis K12 was able to inhibit around 50% of the bacteria of a dog's mouth and that was a big part of the reason why the company had undertaken the trials in dogs, Dr Hale said.
It was hoped the company could eventually expand its research into the animal periodontal area.
The research represented further evidence the Blis K12 probiotic was a "highly versatile" organism.
Chief executive Dr Barry Richardson said the company believed the early data pointed to a beneficial effect in dogs and it would expect further studies to confirm that effect before commercialisation in the animal market, he said.
While there were some dogs with severe bad breath which involved other underlying issues, there were others with relatively good dental hygiene with a halitosis issue, veterinarian Helen Beattie, who is also programme manager for full-time national certificate in veterinary nursing at Otago Polytechnic, said.
The Blis project was aimed at those dogs and it was hoped the project would lead to them becoming "a bit more pleasant when they come in to give [their owner] a morning kiss".
She had heard many dog owners discussing the problem and expected they would be excited about the research.