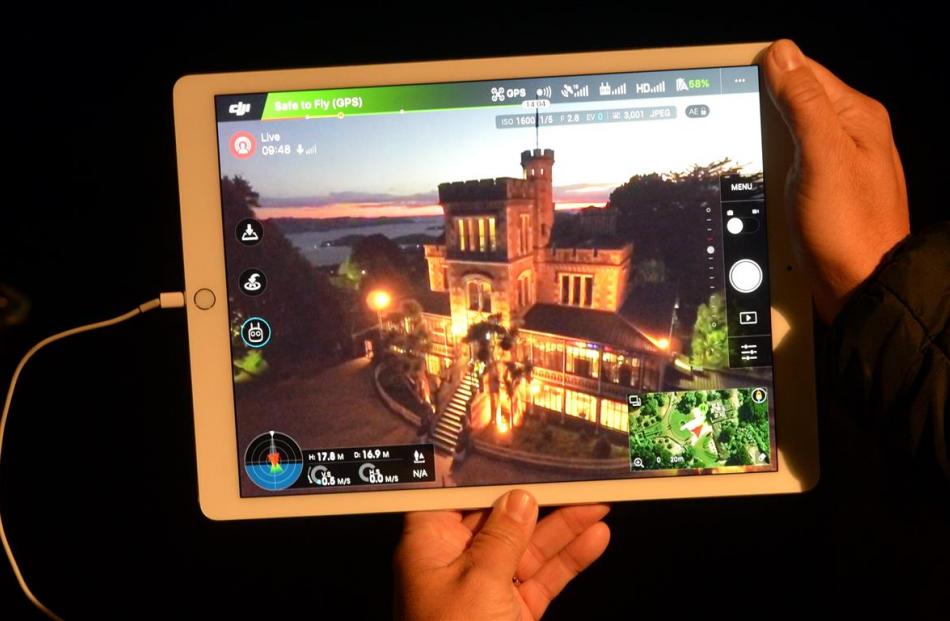 Larnach Castle yesterday became the first subject of a new device that allows live-streaming of video from a drone directly to Facebook.
The footage of the Otago Peninsula landmark went to a potential audience of hundreds of millions of Facebook users, as well as to the annual Facebook F8 developer conference in San Francisco yesterday.
One of many to press the ''like'' button was Facebook chief executive Mark Zuckerberg.
The drone's flight, just before sunrise, and the footage that resulted, was the work of photographer Trey Ratcliff, formerly of Texas, who moved to Queenstown in 2012.
Mr Ratcliff said he had been working in secret for the past month with the social media giant and drone-maker DJI.
His company had been doing ''a lot of drone stuff'' for his website stuckincustoms.com.
''We partnered up with this quadcopter company [DJI] many times,'' he said.
''Since we're very good friends with both companies, and we've done stuff with them in the past, they dreamt up this way you could do live video from the quadcopter, from the drone straight to Facebook.
''That's what we've been testing over the past month or so.''
Mr Ratcliff's role was as ''just an artist'', who had come up with some interesting quadcopter footage from the past three or so years.
Facebook and DJI had taken notice.
''I guess they thought I would be a good ... ambassador to help launch this thing.''
It was ''a pretty big deal'', and probably hundreds of millions of people had seen it, he said.
The first video was from Dunedin, but ''this is really the first show of six months' worth of shows where me and my team are going to travel across six continents in six months and do ... live shows from everywhere''.
The first six weeks of that trip would be in New Zealand, with live drone flights people could watch on Facebook.
A crew of about five people would be involved.
While he was ''in partnership'' with the two companies, Facebook was not paying him to do the drone flights and footage. He was already travelling the world doing travel photography, ''so we're just layering this on top''.
Mr Ratcliff's blog was ''very profitable'', through sales of prints to collectors and photography tutorials.
The Facebook videos would get millions of views.
''A very small percentage'' would visit his site.
''To me, it's a long game, and I'm just happy to give back. This is fun to connect to the audience. Everything just tends to work out on its own.''
Larnach Castle marketing and public relations manager Deborah Price said the castle, which had been provided free to Mr Ratcliff, had been lit up for the live video.
From a marketing point of view, the event had been good for business.
''It's just an amazing opportunity to get ourselves in front of people around the world that wouldn't have seen us.''