Lime scooters have taken Dunedin by storm, but one day after rolling into town they are already generating police complaints and raising the hackles of some pedestrians.
The city was abuzz with smiling riders zipping around on the electric scooters yesterday, as Dunedin joined Auckland, Christchurch and Hutt City as hosts of the Californian company's New Zealand fleet.
He was in high spirits after several hours zooming around footpaths and cycleways, claiming he had achieved a top speed of 40kmh downhill.
Dunedin police received five reports yesterday involving Lime e-scooters.
Yesterday morning, Dorian Fletcher (18) parked his car in the central city and began wrangling free rides by sharing invitation codes for the app with people in town.
Mr Fletcher, who works on a farm in Henley, said he had already experienced several close calls and complained pedestrians were not taking heed when he rang the handlebar bell.
"When you're ringing the bell, nobody wants to move ... If one of them goes down, it's still my fault."
While he thought the idea behind Lime was inspired, he believed things would go south once students returned to the city.
"It's an amazing idea, but with our students, they're going to end up in the Leith."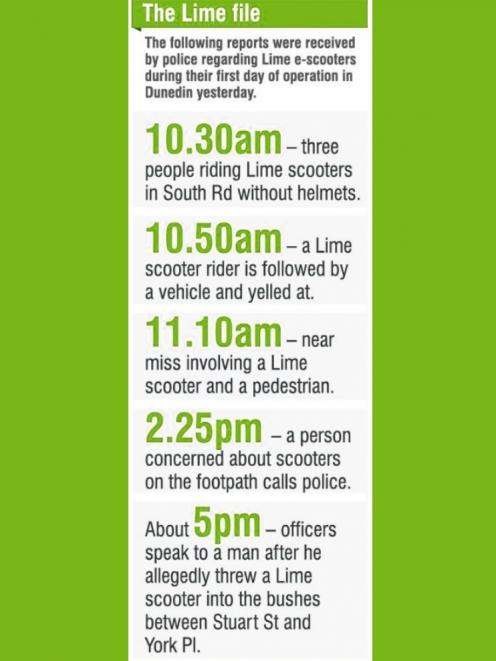 Joan Skinner (90) also had concerns about the e-scooters.
Speaking to the Otago Daily Times as she walked into town from her Stuart St home, Mrs Skinner said elderly people were at risk of being knocked over by the scooters, capable of reaching about 25kmh on the flat.
"I don't think they should be on the footpaths.
"For an old girl like me, it's easy to be knocked down."
However, Vault 21 and Prohibition Smoke House group executive chef Greg Piner was unequivocally positive about the scooters after a ride yesterday, saying he could see himself zipping between the two restaurants on a Lime.
"I think it's amazing - it takes you back to being a kid."
Dunedin native and city Lime launcher Matt McNeill described the scooters as an "efficient and affordable, clean alternative" to private vehicles.
He did not share concerns about how the scooters would fare once the students returned, he said.
"I think the student population's got a lot better behaved over the years."
The company had signed a memorandum of understanding with the Dunedin City Council, supplied to the Otago Daily Times yesterday.
The memorandum set out a series of obligations and responsibilities for Lime and its "agents", including that:
- E-scooters are removed from public places every evening of operation.
- Lime advised riders of their obligations, including to give way to pedestrians and drivers of mobility vehicles, not to ride at speeds that "put other footpath users at risk," and to keep as far to the left as possible when on the road.
- Lime remove "dangerous or hazardously placed" e-scooters within two hours of being notified during "normal Lime operational hours".
- Lime follow up with a rider within four hours of being notified during normal operating hours regarding unsafe use of e-scooters.