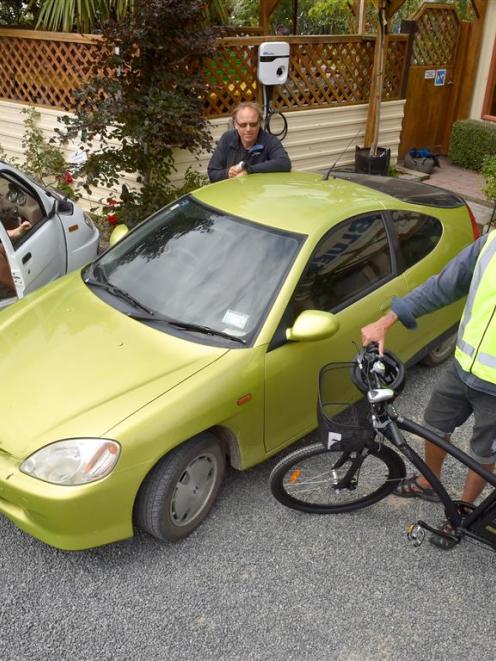 Dunedin is finally plugging in to the electric vehicle movement, and what is thought to be the city's first recharging station is now open in Waitati.
Attached to Blueskin Nurseries and Cafe, the station was installed last week and was now operational, Blueskin Nurseries and Cafe part-owner Sally Brown said.
In 2014, the business installed 40 solar panels on the roof of the nearby St Brigid's church and Roadside Attraction store.
On a sunny day, those panels contributed two-thirds of the business's electricity needs, she said.
Once the solar panels were installed, the next step had always been to add a recharging station.
''It's the way the future's heading ... And we're a destination here and a lot of electric cars, and bikes particularly, if they come out here, they'd be stretched with their batteries to go back.''
With three 10-amp bike-charging plugs and a 32-amp car-charging plug, customers could recharge vehicles for free while shopping or using the cafe, she said.
The charger, which cost ''a few thousand [dollars]'', had been set up to mainly draw on the free electricity coming from the complex's solar panels, engineer and electrician Hagen Bruggemann, who installed the system, said.
Mr Bruggemann said recharging stations were common in Europe.
New Zealand was catching up, but Dunedin was behind the rest of the country.
''There's been no infrastructure in Dunedin at all. You can go anywhere else in the country and you'll find a lot.''
The Waitai charger would use about $1.20 of electricity an hour if drawing from the grid, he said.
It would charge his 300km-range electric car from empty to full in about five hours.
Blueskin Bikes owner Nathan Parker said electric bike rides from Waitati to the Dunedin Botanic Garden usually took about 30 minutes up the back roads and through Northeast Valley.
The charger was a ''fantastic'' addition for Waitati, he said.
 ●Delta spokesman Gary Johnson said the company would have Dunedin city's first fast-charging station, in the Filleul St car park, open for before March. The fast-charging site would be the first in the South Island able to charge cars in under 30 minutes.