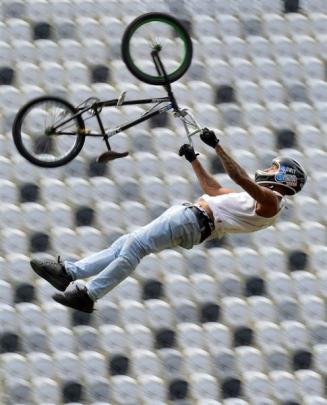 Two of the Nitro Circus Live performers hoping to thrill crowds at Forsyth Barr Stadium tomorrow night know what it is like to overcome life-threatening injuries.
Motocross rider Luke Smith (30), of Auckland, and BMX rider Jed Mildon (26), of Taupo, have both been severely injured during previous stunts, but continue to perform. Smith, who stopped riding after suffering brain damage in a motocross crash in 2009, is relaunching his career at the stadium.
He was in an induced coma for eight days and spent 18 weeks recovering from frontal lobe damage and swelling of the brain after going ''face first'' into the ground - ''my helmet literally exploded on impact''.
Three years of rehabilitation included learning how to walk and stand upright again. Several doctors told him that he would never ride again.
''I had plenty of people say to me `It's never going to happen again; you've had your time' - but I'm proof that miracles do happen, if you want something bad enough.''
He was looking forward to performing in Dunedin although slightly nervous. ''But I can't wait to go out there and do it.''
Mildon, in 2011, was the first person to perform a triple back flip on a BMX bike. He said every rider was fearful of injury but that did not dictate how they lived their lives.
''I've broken my back, been knocked out, broken my collarbones; I've got separated shoulders . . . but we don't wake up in the morning, going `I hope I don't crash today'.
''We wake up in the morning going `Man, I'm going to have a real good time today'.''
Anxiety before a trick was normal but riders reassured themselves about the physics of the jump and came to terms with the worst possible consequence if things go wrong - death. No rider was fearless, he said.
''Fear is one of the things that gives you a good adrenaline hit and that's what we chase. We are adrenaline junkies. If you're scared and you can overcome fear then you get this amazing feeling and that's why I do the things I do.''
Nitro Circus Live marketing manager Nathan Brown said 8500 tickets had been sold and he hoped to sell another 2000.