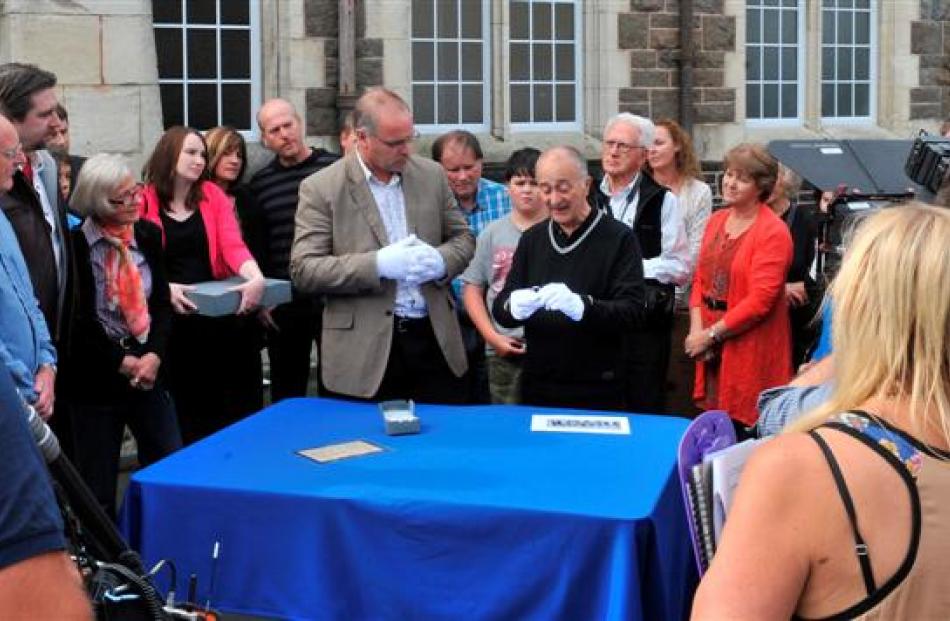 Caricatures, shell casings, diaries, medals and even bayonets came out of their cupboards and cases this weekend as their keepers hoped to nab a spot on the Tony Robinson's Tour of Duty television series.
The television star known for his role as Baldrick in Blackadder was in Dunedin filming the series this week.
As part of the series, people were invited to bring in their wartime memorabilia to a community event at Otago Boys' High School yesterday and share their families' war stories. 
Many people took him up on the offer and took the chance to talk to New Zealand Defence Force senior adviser heritage Matthew Buck.
Mr Buck said people had brought along an ''incredible variety'' of material including photographs, paybooks, caricatures soldiers did of each other, and other material brought home from war by their grandfathers or great-grandfathers.
While he expected material from Word War 1, people had also brought memorabilia from the Boer Wars in the 1880s and 1890s, including a bandolier or ammunition belt, as well as from World War 2.
A story that stood out was the Bible carried by a man in the Crimean War, then carried by his great-grandson in World War 2.
''It's been fascinating. Hugely enjoyable.''
Many wanted to know how to look after the memorabilia and his advice was to keep it in the family, as it was their family history.
''It means more to families, more than sitting in a museum case or, God forbid, an auction house.''
If a museum was preferred, keeping it in Otago, as it was part of the region's history, was a good place to start, he said.
Neil Armstrong brought along his grandfather's war badges and German-engraved shell casings from North Africa and said he was glad of an opportunity to find out more about them.
Sir Tony was filmed during the event talking to a range of people whose stories might appear on the programme, including that of Waikouaiti resident Pat Heckler (92), who appeared in the Otago Daily Times when her late father's World War 1 paybook was discovered in the Reed Building.
The story that stood out for him from yesterday was that of a Gallipoli soldier who wrote home on a piece of wood asking for more paper.
''He ran out of paper and this was a postcard to his sister and it came all the way back to Maori St.''
The 10-part series will air on the History Channel next year.