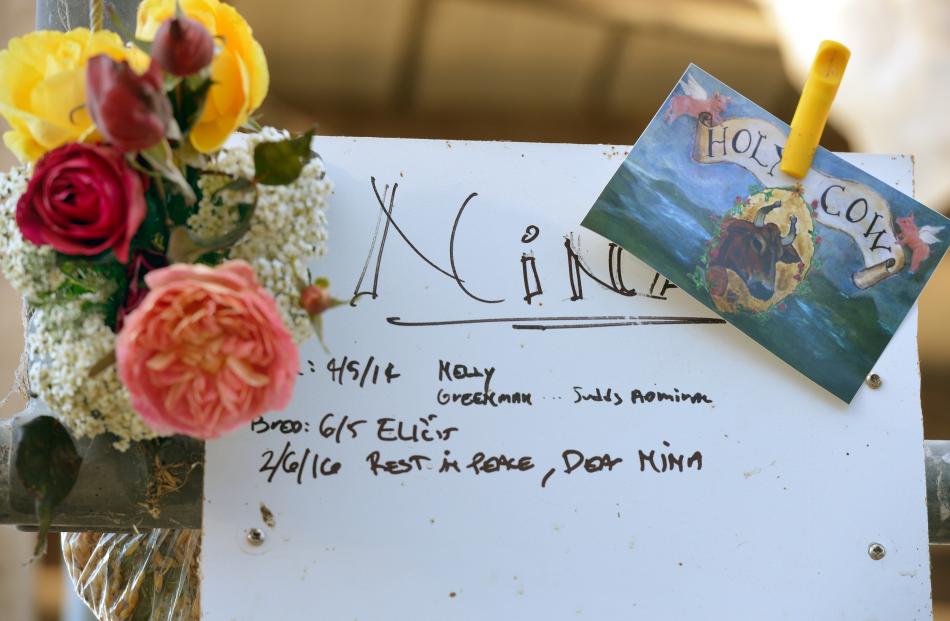 Port Chalmers dairy farmer Merrall MacNeille has suggested a pilot programme involving the University of Otago, Ministry for Primary Industries and himself, in an attempt to keep selling his milk.
Mr MacNeille and his wife Alex have been inundated with support from customers and the public since being ordered to stop selling raw milk after a tuberculosis-positive heifer was discovered on their property above Careys Bay.
For at least three years, he has been working with the university, supplying milk to use in an electronic milk purifier. Unlike regular pasteurisation, which heated milk to "crazy'' temperatures and then cooled it, the machine did not heat the milk.
An electric current was used. It was "super'' energy efficient, did not kill enzymes, nor did it change the protein structure or flavour and the milk still tasted like raw milk, he said yesterday.
His goal was to get MPI, the university and himself in a pilot programme that would allow the milk to be sold. If that worked, he would make an effort to return a portion of the former town supply glass bottle milk for Dunedin.
MPI was contacted for comment but was unable to answer questions by deadline.
Buoyed by "tremendous'' support, Mr MacNeille (63) was feeling "on the upswing'' after some very difficult days and nights.
"I've had a lot of people come by also just to help out in terms of my sense of wellbeing. I was deep in a hole,'' he said.
Facing potentially a six-year delay before he was able to sell milk again, Mr MacNeille had booked his cows to be slaughtered.
Unable to sleep, he was thinking he could not send Sweet Pea to slaughter - "her mother was my absolute favourite'' - and then, if he kept her, he would have to keep another cow for company.
As he ran through the list of names, with monikers like Belinda, Marjorie, Lulu, Beatrice, Iris and Violet, it got up to 18 he needed to keep.
It was at that point he decided he was going to keep all of them, despite them not being able to produce milk for sale.
When Mr MacNeille bought the property, he removed the loading ramp, saying no cow of his was ever "going to the works in a double-decker''.
An informal group called Friends of Holy Cow has been formed to help support the couple. A Givealittle page has already raised more than $4000.
Grazing had been offered as far afield as Palmerston North, although the cows could not be shifted from the property unless they were going to slaughter.
The love Mr MacNeille has for his small herd is obvious. Lined up in the cowshed, which comes complete with a grapevine overhead that tempers the summer heat, each cow has a name plate above her, with her details. Cowbells around their necks jangle while he grooms the contented herd twice a day.
There is one empty stall, which has a posy of flowers attached to the name plate which bears the name Nina and the simple message RIP. It is a poignant reminder of the heifer that was slaughtered because of her Tb-positive test. She was not part of the milking herd.
Mr MacNeille grew up on a small farm in rural Maryland in the United States. His grandfather lived "over the hill'' and milked Guernsey cows, selling their milk in glass bottles.
He studied agriculture but switched to architecture, when he realised learning about farming was "lovely'' but he did not have the cash to do it. He later milked cows in the US, selling raw milk, before moving to New Zealand in 2000.
Initially, there was no market for the milk but slowly numbers grew. It reached the point where they did not have enough cows to supply their customers and they had to buy more. He loved raw milk and said he did not like what pasteurisation did to it.
The property, with its scenic outlook, comprised about 28ha, although much of that was "either vertical or gorse''. The area was "infested'' with possums, the main source of Tb infection in farmed cattle and deer herds in New Zealand.
Northeast Valley resident Sam McMullan, whose wife Tess Trotter has organised the Friends of Holy Cow initiative, has been buying milk from Mr and Mrs MacNeille for 10 years.
He liked the product; the milk content, high fat and superior taste, and the fact that the couple were "good people''.
"We all feel pretty sorry for these guys. We hope they find a way of making it work,'' Mr McMullan said.
Another regular customer said she never previously liked milk but she had quickly become a convert. She loved seeing and hearing the cows and knowing where her milk came from.
Being able to reuse glass bottles was also very important. It was environmentally friendly, rather than producing "tonnes of plastic''. Having the outlet closed down was a big loss, she said.
MPI has previously said it had sympathy for Mr MacNeille's position but its first concern had to be the health and safety of consumers. He was able to supply milk for pasteurisation and MPI was prepared to facilitate that option.