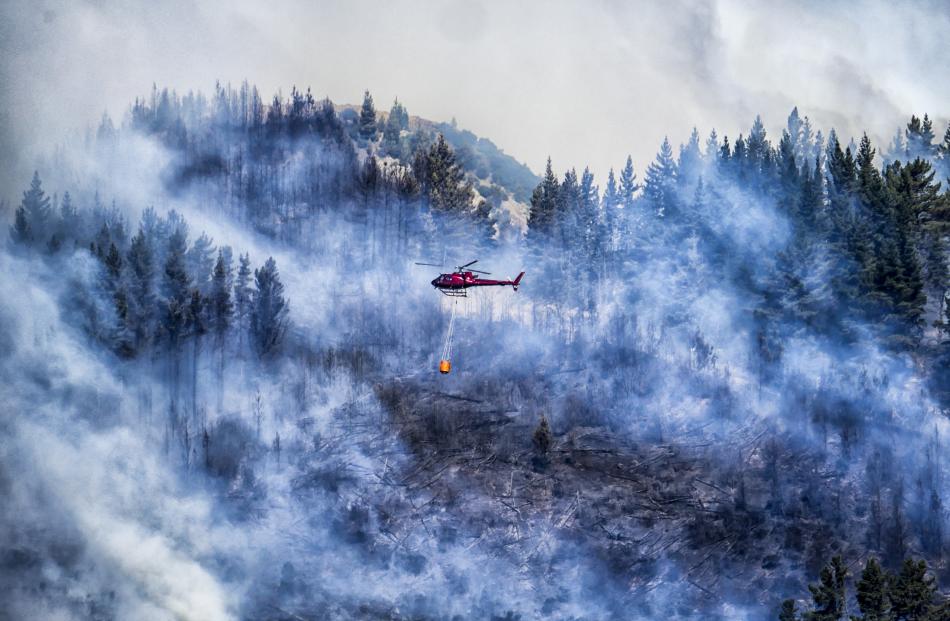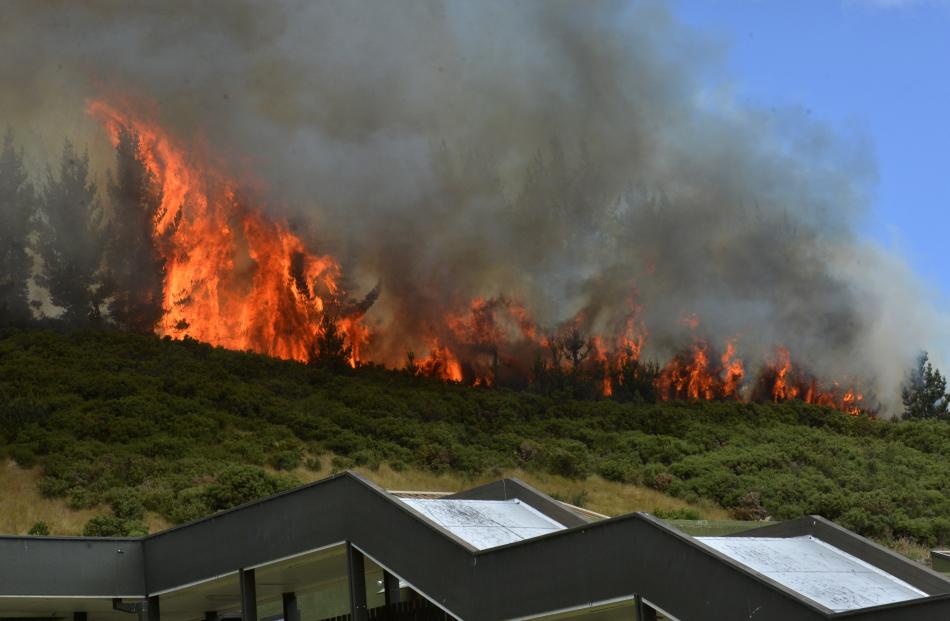 Fire crews remained at the scene of a 24ha blaze on Signal Hill in north Dunedin last night.
Otago Rural Fire Authority head Phil Marsh said more firefighters would return today to the scene, above Logan Park High School, to ensure ''every little hot spot'' was extinguished.
Forty firefighters from eight rural and urban fire appliances, and six helicopters, five equipped with monsoon buckets, battled the blaze which started about 2.45pm.
Within 15 minutes of the first emergency call, plumes of smoke and flames could be seen billowing from scrub near the Signal Hill mountain-bike track.
A police spokeswoman said three homes in Rimu St, Ravensbourne, were evacuated about 7pm as a precaution.
It was likely the occupants would return to their homes last night, the spokeswoman said.
The blaze was in the same area as one on Signal Hill 10 years ago, Mr Marsh said.
''There was a bit of concern it was going to spread up Signal Hill so the machines [helicopters] did a very good job of cutting that off.''
Logan Park High School also escaped damage, despite flames burning bush to the right of the school.
It's principal, Jane Johnson, said she saw smoke spilling from the area near the school from her home in Mornington.
''I saw the smoke and thought 'Uh oh'.''
Gorse had been cleared from a hillside behind the school a few weeks ago.
''If any block would have been in danger it would have been the science block.''
The Fire Service had worked with the school to ensure information about what chemicals were stored in the block was known, in the event of a fire, she said.
Gusts of 78kmh were recorded on the outskirts of Dunedin after 5pm, a MetService spokeswoman said.
Otago Helicopters owner Graeme Gale said winds made flying ''extremely challenging''.
''The turbulence was very bad.
''You wouldn't want it to be your first day of flying.''
A few helicopters would return to the fire site today to continue dampening the area, he said.
''It was hard work, very hard work.
''But we provide an emergency service and that's just the way it is.''
Rachel Neynens, of Dunedin, said she called emergency services after spotting the fire about 2.45pm.
''My boyfriend and I were on the athletics track getting ready to do some exercise and we saw some smoke.''
What initially looked like a controlled burn grew within seconds to a large fire, she said.
Late last night Mr Marsh said the fire was contained, but the risk of it spreading was not completely gone.
''We will be backwards and forwards for days, going to this fire, to make sure it is all out.''
It was too early to know what might have started the blaze, but an investigation would follow, he said.
The MetService spokeswoman said southwesterly winds which battered the city yesterday would ease overnight.