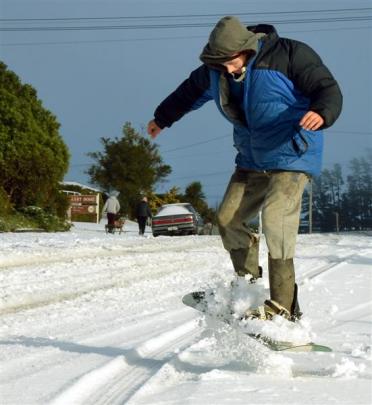 School was off, the mail did not come, some radio and television services were affected by a suspected lightning strike and road crews battled to keep the roads open - it was the first snow day of 2014.
MetService recorded a high of 5degC on a day when storms swept across the city, dumping hail and snow.
Some radio stations were knocked off the air early in the day after a suspected lightning strike as the storm struck Mt Cargill.
Kordia New Zealand chief executive officer Scott Bartlett said the event, just before 9am at Dunedin's main transmission site, had caused power issues and created some transmission outages for television and radio.
''It affected most Freeview-based television services for most of the day.''
The Radio New Zealand Concert programme also went off air, Mr Bartlett said.
The lightning strike had caused ''substantial damage'' and was an unusual occurrence.
Radio Dunedin and Otago Access Radio spokeswomen said each station was off air for more than two hours.
A New Zealand Post spokeswoman said due to the weather, delivery in Dunedin was restricted to private bags and post office boxes in the central city.
No mail was delivered to the suburbs.
''It's not unusual to have delays in the hill suburbs when it snows in winter.''
There were also no mail deliveries in Balclutha, Gore or Queenstown.
She anticipated deliveries would resume this morning, but that depended on the weather.
Deliveries were made in Alexandra, Invercargill and Wanaka, she said.
Otago Secondary Principals' Association secretary Gordon Wilson said he understood all Dunedin schools had closed for the day.
Intermediate and primary schools made a combined call whether all would open or close, while secondary schools made their own decisions.
Dunedin City Council roading maintenance engineer Peter Standring said seven trucks were out early yesterday and crew made sure as many of the city's arterial roads as possible were open.
Those included routes such as Stuart St, Taieri Rd, Kaikorai Valley Rd and Highcliff Rd.
The worst of the snow and hail hit about 2am yesterday, and teams were out with snow ploughs and sweepers, trying to keep the roads clear.
''That was quite a battle,'' Mr Standring said.
As it had in the past, the council was using both grit and chemical de-icing agent calcium magnesium acetate (CMA).
CMA reduced the freezing point of moisture on roads to as low as -6degC.
The council would be ready this morning and patrols would check on conditions overnight, so contractors could respond.
Otago Regional Council communications manager Peter Taylor said all bus routes were back in service by about noon yesterday, except the Pine Hill service did not travel from Pine Hill Rd into Dalmore, due to icy conditions.
There had been ''quite a lot of disruption'' earlier, when most hill suburb routes were affected by slippery conditions.
Bus companies sent scouts out early to check routes and would do so again.
The council's website would be regularly updated today and media would be informed, as would staff answering telephones.
The Dunedin City Council rubbish and recycling collection was cancelled, the Dunedin City Library closed at 5pm, and all book bus runs were cancelled.
Moana Pool closed at noon, the Chinese Garden was closed for the day, and all council sports grounds were closed for both games and practice.
The Dunedin City Council said most drivers acted responsibly, as snow and hail made conditions difficult.
The day, however, was not without mishap.
Southern District Command Centre deployment co-ordinator Senior Sergeant Dave Scott said a woman was taken to Dunedin Hospital with a minor neck injury after the southbound Toyota 4WD in which she was a passenger slid off Blackhead Rd, rolled several times down a bank, through a fence and into a watercourse about 9.30am.
The male driver was not injured.
The road conditions were ''treacherous'', Snr Sgt Scott said.
Otago Polytechnic spokesman Mike Waddell said the Dunedin campus was closed yesterday but the Central Otago campus remained open.