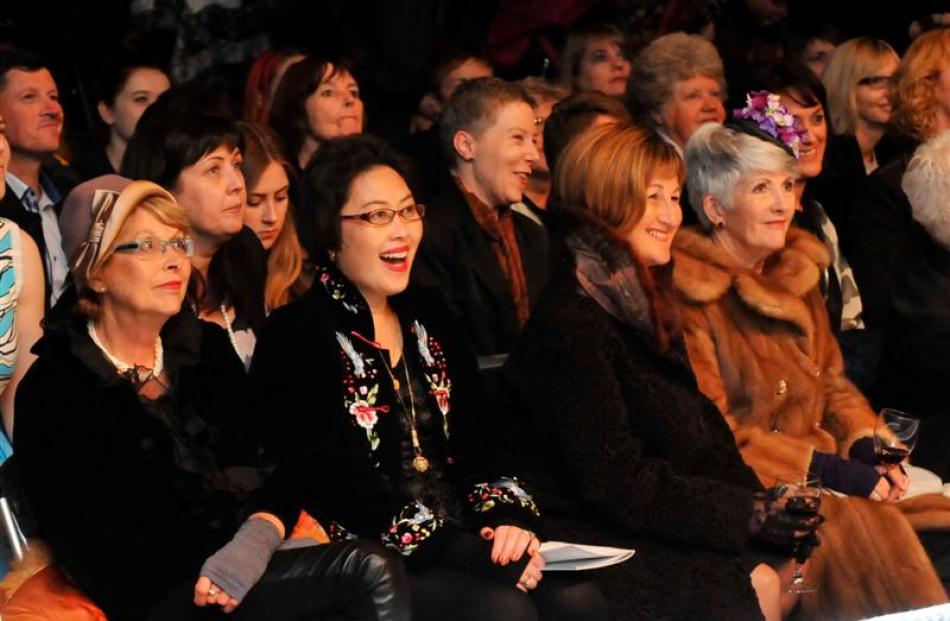 A fashion fantasy tore 1600 people away from the mundane at last night's 15th anniversary iD Dunedin Fashion Show in the Dunedin Railway Station.
The sold-out show had everything from Royal New Zealand Ballet dancers to Otago rugby players, flutes of bubbly, television journalists, Chinese models and goodie bags.
But it was the clothes that transported people to another world.
Leading Dunedin fashion brand Nom*D opened the show with 2014 autumn/winter collection ''I Will Be Good'', playing on themes of rebellion and punk culture in true Nom*D style.
From Dunedin's longest-standing fashion brand to its youngest, four Otago Polytechnic graduate collections by Lauren Arthur, Hannah Louise Heslop, Georgia Ferguson and Justine Tindley then graced the stage, pushing the boundaries of commercial clothing.
They were followed by another iconic Dunedin brand, Charmaine Reveley, which embodied freedom, lightness and femininity.
Dada Vintage and the capsule collections of Senorita AweSUMO, Clothes I've Made, Wilson Trollope, Highnoontea and DEVaL provided a varied display, setting the scene for Tamsin Cooper's first menswear showcase.
The Dunedin designer, who has long had an association with the Royal New Zealand Ballet, paired three of its male dancers with Otago rugby players in the modelling of her collection ''New York'', which referenced her recent collaboration with the dance company for its United States tour.
Well-established Dunedin label Mild-Red rounded out the first half, to be followed in the second by local brand Company of Strangers.
Inaugural iD designer Vaughan Geeson returned for the anniversary event, showing his ''Pop Heart'' collection of art-inspired attire, preluding the stunning creations of Tanya Carlson.iD International Emerging Designer Awards winners flaunted their talents before Storm led the way for national guest brand World.
The ''Penny Wise Pound Foolish'' collection was pure, unadulterated couture - frivolous and over the top but simultaneously dramatic and refined.
Earlier in the day, World co-founder Francis Hooper highlighted the importance of runway shows in reviving people's passion for fashion.
''We are there to entertain your eyes and your mind, and get you excited again. Fashion has become like fast food - it's cheap and easy and you don't have to think about it - but we live in an ulterior universe to that.''
He honoured those who worked hard behind the scenes, who last night included 30 Otago Polytechnic fashion students, 22 make-up artists and 12 hair stylists.
''A show is nothing without its components, amazing make-up, amazing hair and a great soundtrack. A show is a fantasy - you're going into Narnia,'' Hooper said.
Fittingly, the following and final collection by Paris-based Australian designer Martin Grant allowed audience members to dream.
For many, it was the closest they will ever get to such luxurious, high-end European tailoring.
The timeless elegance Grant has become known for shone through in his spring/summer work inspired by Russian ballet dancers and women's swimwear.
About 60 models, including 10 from Shanghai, walked the 120m runway, the southern hemisphere's longest, which will be swept clean today for tonight's final iD show.