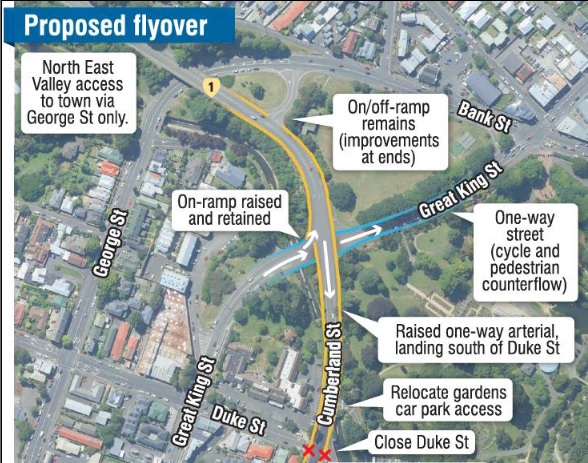 A flyover costing about $25 million is being touted as the best way to remedy a problematic intersection in North Dunedin.
However, Waka Kotahi NZ Transport Agency has signalled a much more modest programme of safety improvements at the intersection of State Highway 1 (Pine Hill Rd) and Great King St is more likely to be approved.
This could result in traffic lights being installed at the intersection as part of a $3 million upgrade project.
The disparity between the vision of consultancy Stantec and what transport officials consider realistic could be brought to the attention of Transport Minister Michael Wood when he visits Dunedin next month.
The intersection has been investigated for about 25 years.
The preferred solution which was put forward by Stantec last year involved elevating about 300m of SH1 between the bridge over George St and just south of Duke St.
City councillor Jules Radich called for the flyover.
"I think that this is simply the best solution and that the funding is well within acceptable levels for Waka Kotahi, especially considering the traffic volumes catered for and the level of safety improvement it would provide," he said.
Cr Rachel Elder had witnessed the aftermath of trucks crashing and she believed there were few long-term solutions, other than the flyover.
However, it has been anticipated just $3 million will be spent on on the intersection, at least initially.
Waka Kotahi principal safety engineer Roy Johnston said Stantec took a high-level look at the intersection.
"The preferred option for further investigation . . . is unlikely to be economic," he said.
Cr Jim O'Malley did not favour a flyover, but said Pine Hill was an example of Dunedin getting short-changed.
"A good outcome will not be cheap," he said.
Cr Lee Vandervis listed wholesale problems with both the existing configuration and an overpass. He suggested a narrow underpass for Great King St northbound traffic to North East Valley.