The grieving parents of two siblings killed in Sunday's horrific car crash are urging young drivers not to drink and drive, and to always wear seat belts.
Floral tributes to Shannon (22) and Danielle (17) Kiriau covered the kitchen table at the North Taieri home of Beverley de Blecourt and Nai Kiriau yesterday.
''They were taught to wear safety belts as babies,'' Mrs de Blecourt said.
''Wear your seat belt and don't drink and drive. What more can you say?'' a visibly upset Mr Kiriau said.
''We want this message to get out there,'' Mrs de Blecourt said.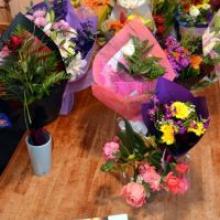 About 5am on Sunday came the knock on the door that no family would want.
''I thought it was [the children]. I yelled out, 'Come on in, the door's unlocked','' Mrs de Blecourt said.
But it was police officers, who told the couple their son, a front-seat passenger, was dead, and their daughter was in a critical condition in Dunedin Hospital.
However, the couple were visited by police at Dunedin Hospital two hours later, and told their daughter had in fact died at the scene.
Danielle's identity had been confused with that of close friend and fellow back-seat passenger Courtney Donald (17), whom the family then had to identify to ensure she was not their daughter.
''Danielle had just dyed her hair and that's how we knew it was not her,'' Mrs de Blecourt said.
''They look very similar.''
She felt sorry for Miss Donald's family, who ''were at home thinking their daughter was dead''.
Mr Kiriau remembered later telling Miss Donald's parents at the hospital that their daughter ''would pull through''.
She remained in a serious condition in Dunedin Hospital last night.
Dunedin Clutha Waitaki relieving area commander Inspector Jason Guthrie said the mix-up was ''terrible mistake''.
''We have apologised to the parents and families involved.
''At the time, there were a number of corroborating factors that indicated that the information we had received was, in fact, correct.
''Police have confidence that the standard protocols were followed, but this will be assessed more fully as part of the debrief.''
The siblings, along with three friends, were in the illegally modified Honda Integra when driver Cameron Presland (20) - Miss Kiriau's partner - lost control on a slight bend on the Southern Motorway.
Police yesterday confirmed Mr Presland held only a learner licence. Drivers with a learner licence must drive with a supervisor who has held a valid full New Zealand licence for two years, is seated in the front passenger seat and who is responsible for everyone in the vehicle.
Police said speed, alcohol, not wearing seat belts and the state of the vehicle were all factors in the crash.
Caitlin Adams (16), who along with the other two rear-seat passengers were not wearing seat belts, was released from hospital on Sunday.
Insp Guthrie confirmed officers had spoken to the driver, who remained in hospital for assessment.
''It's too early to say whether any charges will be laid,'' he said.
Days before the fatal crash, Mr Presland had swapped his van for the sedan, which had not passed a warrant of fitness since early 2012, Insp Guthrie said.
That arrangement also formed part of police inquiries.
Mrs de Blecourt and Mr Kiriau said they were not angry at police, but Mr Kiriau said he was initially ''pissed off'' after confirmation of the mix-up.
''I had thought Shannon's gone, but at least there is hope with Danielle still alive.''
Mrs de Blecourt said she took comfort from her son's last words to her - ''I love you'' - as he left the home to attend a friend's party at Three Mile Hill along with the others.
The couple felt no animosity towards Mr Presland and had spoken to his family, ''because at the end of the day the kids made the decision to go into that car'', she said.
The couple thanked the community for their support. Their children had both represented Otago in sports - Danielle in athletics and Shannon in rugby.
The couple were now preparing for their funeral, with hundreds expected at the service at Coronation Hall, in Mosgiel, on Friday.