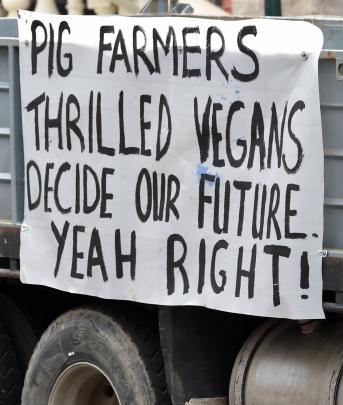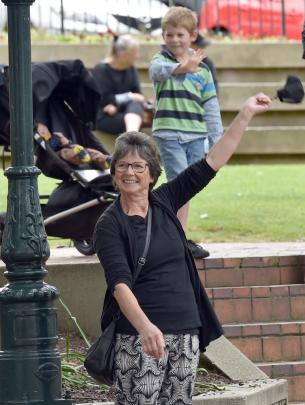 Farmers flocked to the centre of Dunedin yesterday afternoon for the latest rural protest organised by the Groundswell advocacy group.
Yesterday's effort was dubbed the "Mother of All Protests" and involved protest action across the country.
Around the South, protests took place in centres such as Alexandra, Balclutha, Bluff, Gore, Greymouth, Hokitika, Invercargill, Mosgiel/Dunedin, Oamaru, Palmerston, Queenstown, Rakiura/Stewart Island, Te Anau, Timaru and Wanaka.
The local action got under way in Mosgiel's Memorial Park as farmers started to congregate from about noon.
A procession of tractors and utes started the trek to town about half an hour later, slowing down traffic on Dunedin's motorway as the group headed towards the city.
The farm vehicles did laps of the Octagon while honking their horns, with supporters on the footpath waving in support.
One ute sported a sign that said "our ute is our workhorse, not a toy of masculinity", while a truck had a banner that read "pig farmers thrilled vegans decide our future, yeah right".
Local organiser Lucy Thomson said she was pleased with the number of people that turned out for the protest.
"November is one of the busiest times of the year. We've got docking and there's shearing and there's a lot of tractor work on the farm getting it prepped for winter.
"So it's been outstanding and it was lovely to see all our urban cousins come out and support us as well."
A statement from the national organisers that was broadcast on Newstalk ZB was played on loudspeakers for those in the Octagon to listen to.
In the statement, a Groundswell spokesman said Covid-19 had been tough enough on both rural and urban, with unworkable regulations adding to people's worries and frustrations.
"We, the people of New Zealand, want an end to these regulations until genuine consultation takes place that treats all New Zealand citizens in a fair and equal manner resolving in acceptable resolutions for all.
"If the Government is not forthcoming in addressing these issues, I call on all New Zealanders to join our protest in Wellington in February next year. We say 'enough is enough' and ask all participants to disperse and go home in a peaceful manner."
Yesterday's protest action was the successor to July's "Howl of a Protest", which led to large gatherings in most centres nationwide to oppose what Groundswell sees as overregulation of the rural sector by the Government.
The key points included Three Waters reform, the national policy on freshwater, significant natural areas, the national policy on indigenous biodiversity, shortages of seasonal rural workers, climate change policy, the Crown Pastoral Land Reform Bill and the clean car package.
Towns throughout the South saw plenty of farmers taking the trip into town to protest.
In Oamaru, Thames Highway and Thames St was completely backed up with tractors, utes, cars, sprayers and old fire trucks, while Gore's Main St was also flooded by a stream of tractors, trucks and cars.
Wet weather in Timaru did little to dampen spirits as hundreds of vehicles showed up and were met by hardy locals brandishing signs in support standing along the streets.
Southern efforts largely mirrored those from around the country.
Still in the grip of Alert Level 3 restrictions, Auckland had about 100 vehicles, including a large number of utes and about seven tractors, arrive in Queen St tooting their horns and waving New Zealand flags just after noon.
In Christchurch up to 300 vehicles gathered in Memorial Ave, while protesters were also active in places including Wellington, Nelson, Taupo and Greymouth.