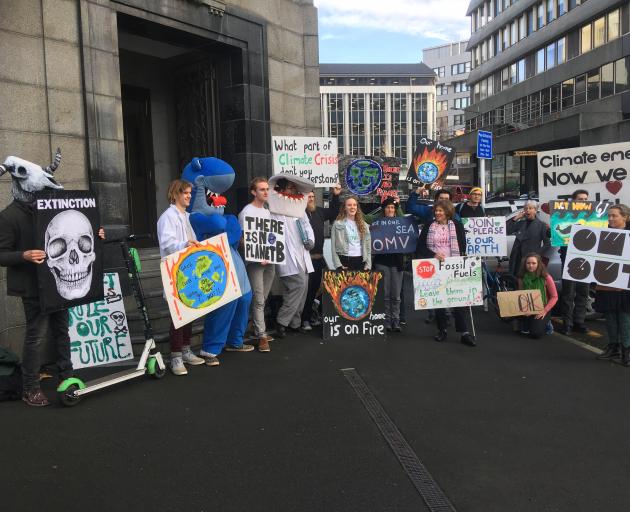 Demonstrations against OMV drilling for oil in the Great South Basin will be discussed at a public meeting this week, the Dunedin branch of Extinction Rebellion says.
Austrian company OMV has confirmed it will be arriving off Otago's coast this summer to drill a one-off oil and gas exploration well, at a cost of about $80million.
Consent to drill was granted in September, with conditions. Regulator approvals are still required before the company can start exploration and appraisal drilling.
Extinction Rebellion member Jen Olsen said a public meeting would be held by the Otepoti Dunedin branch of the environmental action group tomorrow, to discuss how best to protest something happening so many miles offshore.
It would be at Knox Church at 5.30pm.
"We're calling a meeting of everyone who's interested in protesting against that [the drilling] so that we can get some ideas of what kinds of things people can do.
"It's not going to be easy to protest against it ... but Greenpeace [are going to come on board] and they've got boats, so that'll be quite good."
Oil Free Otago and 350.org, and "probably Generation Zero" were also interested in taking action, along with other groups which might support protests without attending.
"There doesn't need to be any more exploration for fossil fuels; we've got more fossil fuels than can be burnt if we want to keep global warming under 1.5degrees," Ms Olsen said.
"We strongly feel that it should not take place. It needs to stop."
The University of Otago came under fire from some members of the public on social media at the weekend for allowing Extinction Rebellion - termed by one "a disruptive public nuisance group" - to hold its weekly meetings on its premises.
A university spokeswoman said Extinction Rebellion was following processes to book a room as any other community group would.
Ms Olsen said the group's "informal" membership was about 150 and many members were students, postgraduate students or academic staff, or retired members of the university community.
"We would expect that the people at the university are the most well-informed about the issues," she said.