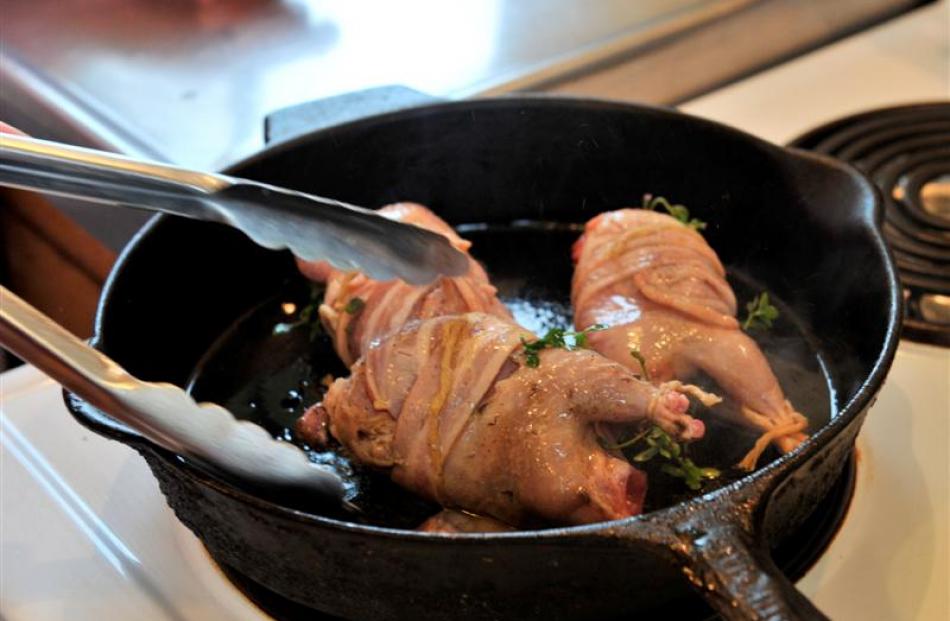 Is quail the new chicken? Dunedin resident and Otago Polytechnic cookery lecturer Julie Feary-Law thinks it could be.
Ms Feary-Law and her partner spontaneously bought 10 quails for $40 on the internet last month and this week savoured three of them wrapped in bacon.
They tasted nothing like chicken, Ms Feary-Law said.
''They were absolutely amazing, very moist. More like rabbit.''
It was the first time she had cooked quail and it would be the last for a while, as the remaining quails were being kept for their eggs.
Ms Feary-Law said although quail eggs were smaller than chicken eggs, they were more nutritious.
Quail hens laid an egg every second day, or up to 200 a year, she said.
Quails had a two-year life span, were far quieter than chickens, and needed only a small area to live in.
''They're fascinating little creatures. They hardly make any noise. The male crowing sounds like a duck quacking, and it's not in the middle of the night or early in the morning.''
She had kept chickens before, which were much noisier, she said.
Her quails lived in a rabbit run, ate kitchen scraps, grain and insects and were ''lovely'' pets.
''They are just so cute, hardly any hassle at all. They're also hardy wee creatures. They don't mind the heat or the cold,'' she said.
Dunedin City Council environmental health and animal control team leader Ros MacGill said anyone could keep quails, chickens and other birds at home as long as they did not create noise, smell or rodent problems.
They had to be kept healthy and in clean conditions, free from accumulated manure and food, vermin, and any offensive smell or overflow of excrement.
Authorised officers could issue notices as a result of complaints, she said.
Many Dunedin residents kept chickens and other birds in urban areas, and most complaints were about associated noise or smell.