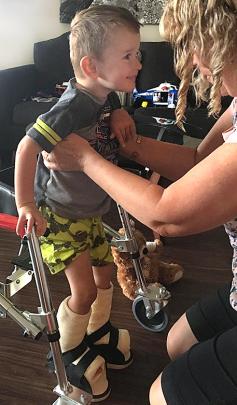 One gets the sense that once Harry Finch starts walking, there will be no stopping him.
The Abbotsford 3-year-old has spastic diplegia cerebral palsy, which means the muscles in his legs are always contracted, making it impossible for him to learn to walk.
But since having surgery on his spine at St Louis Children's Hospital in Missouri, to release the muscle tension in his legs, he has been making a good recovery and showing great mental fortitude.
His mother Bex Finch said Harry was now out of hospital and they were staying in an apartment while he received physiotherapy each day to help build up the strength in his legs.
"So now it's an hour of physio each day, and he has good days and he has bad days, just like all of us.
"He has a lot of work to do to strengthen his muscles to allow him to walk.
"He hasn't needed pain medication since leaving the hospital and he never complains about being in pain.
"That just shows how tough a wee man he is.
"His sense of humour has helped him get through a lot. He's showing a lot of resilience.''
She said both of his legs were in casts, to stretch out his achilles and get his feet flat, which would make it easier for him to walk.
"Mobility is difficult for him with the casts on because they are heavy. He also has to sleep with knee braces.
"But the casts come off on Friday, so it will free him up a lot more.''
Mrs Finch said Harry did not receive physio at the weekends, so the family had been able to get out and explore a lot of St Louis, which had cheered him.
"It's been great for Harry because he had that whole first week stuck in hospital.''
While the surgery was not an immediate fix which would allow Harry to walk back into New Zealand, he was already able to stand straight-legged with help from stabilisers like toy shopping trolleys.
He will have to undergo regular physiotherapy for the next five to seven years.
Mrs Finch said the family aimed to return to Abbotsford on June 7.