Doctors are not prejudiced against medicinal cannabis, and will prescribe any drug whose benefit is proven, New Zealand Medical Association chairman Stephen Child says.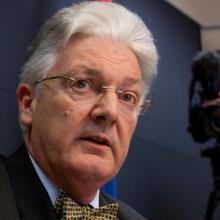 Associate Health Minister Peter Dunne announced yesterday a moderate reform whereby applications to prescribe non-pharmaceutical cannabis-based products will be considered by the Ministry of Health, rather than the minister.
Mr Dunne also took a swipe at New Zealand doctors, accusing them of being too conservative about medicinal cannabis, saying some doctors are rejecting patients' applications because of their ''downright prejudice'' about the drug.
Some medical professionals were afraid of being labelled ''Doctor Dope'' and needed to be more open-minded about medical cannabis, Mr Dunne said.
Mr Dunne plans to write to the New Zealand Medical Association to express his view.
''I also intend to include a list of internationally available cannabis-based products that are either pharmaceutical grade or good manufacturing practice certified, to provide additional clarity on the issue,'' Mr Dunne said.
Dr Child said doctors were cautious and looked at the evidence before prescribing drugs to patients.
He rejected the ODT's suggestion that doctors had been too conservative in their approach to medicinal cannabis, and suggested the problem was more a lack of certified proven products.
''I would be highly surprised if there was a doctor that objected to prescribing a drug that has been regulated: We know what's in it, we know the benefits, and we know the risks.
''Doctors would be reluctant to prescribe a medication if you don't know what's in it ... doctors would be appropriately reluctant to prescribe that even if the patient was asking them for it.''
Dr Child said the list being drawn up would help to clarify which drugs were considered safe and well manufactured.
Independent drug researcher Geoff Noller, of Dunedin, said cultural attitudes and medical scepticism were major challenges. Also, because the drugs were unfunded, they were out of reach for many patients.
''We've had 100 years of prohibition of cannabis which has cast a huge shadow of negativity and suspicion over cannabis as a substance.
''The world's changing rapidly with regards to medical cannabis,'' Dr Noller said.
''New Zealand is lagging further and further behind.
The irony is that New Zealand, of the industrialised nations of the world, has probably the highest rate of consumption of cannabis per capita.''
There had been a lack of research into medicinal cannabis because of stigma.
There was a lack of education and practical knowledge of medicinal cannabis among doctors, he suggested.
Dr Noller said it was also important not to bestow a ''halo effect'' on medicinal cannabis, as it was not right for every ailment or patient.
Mr Dunne's statement outlined the change that took effect yesterday.
''Last week I wrote to the Director-general of Health, advising him that as of February 8, 2017, applications from specialists to the ministry to prescribe non-pharmaceutical cannabis-based products will no longer need ministerial approval.
''Approval for pharmaceutical grade cannabis products was similarly delegated some years ago,'' Mr Dunne said.
The ministry already held decision-making power over pharmaceutical-grade cannabis products such as Sativex (except when it is prescribed for multiple sclerosis).
- Additional reporting NZME