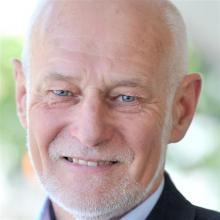 Health Minister David Clark has sacked the Dunedin Hospital rebuild chairman and appointed former Labour cabinet minister Pete Hodgson to lead the project.
When contacted, Hawke's Bay consultant Andrew Blair said his role as Southern Partnership Group chairman was "terminated" this week. Dr Clark told the Otago Daily Times the rebuild needed to be led by a local person.
"I wanted to have stronger local leadership. He [Mr Blair] was amenable to standing down."
Dr Clark's other move is appointing University of Otago chief operating officer Stephen Willis to the group now led by Mr Hodgson. Mr Willis has replaced Auckland consultant Tony Lanigan.
The other members of the group are Richard Thomson, of Dunedin, and Drs Margaret Wilsher and Andrew Connolly, both of Auckland.
Yesterday, Dr Clark said he was frustrated by the years of delay and stalling. He did not blame Mr Blair for the delays, Dr Clark said.
It reflected the previous government's lack of focus on Dunedin Hospital.''Everybody . . . acknowledged that it was Dunedin's turn for a hospital rebuild — the only major centre in New Zealand not to have its hospital rebuilt.
"I thank Andrew for his service and expect him to continue to provide informal guidance where his expertise is required for the project."
Mr Hodgson, Dr Clark's predecessor in Dunedin North, served as MP from 1990 to 2011, and held numerous ministerial portfolios in the fifth Labour government.
"As a former minister of health, he understands the complexity of the issues involved," Dr Clark said.
"He is indisputably a local champion, and  . . . is well connected into health.
"I'm delighted that he's agreed to lead the partnership group for the next three years."
Mr Hodgson would be charged with implementing Labour's vision for the rebuild, including a promise to start construction before the 2020 election. Mr Willis  would not vote on any rebuild decision directly pertaining to the university, Dr Clark said.
There has been speculation about a land swap enabling the use of university land for the hospital, but the idea was not favoured by the previous government. Dr Clark declined to confirm whether the idea was back on the table.
"There are sites that are being actively explored at the moment, and I hope that we will be able to at least discuss the leading possibilities before Christmas.
"I want it to be as transparent as possible, because I think if we're upfront with the city, then they will understand the constraints we're working within."
Asked if the Public Works Act might be invoked, Dr Clark said he was taking advice on various legal mechanisms to secure a site.
Mr Blair said yesterday he was pleased to continue as chairman of two Wellington district health boards and said he had a good working relationship with Dr Clark.
He was proud to have been involved with the rebuild and said it made big strides in the two years since his appointment.
"If we reflect on where we were a couple of years ago with an expectation that Dunedin needed a clinical services block that might cost $300 million, and see where we are now ...
"The partnership group that I chaired has added some real value and has set things up extremely well for Dunedin to get a brand new, probably $1.4billion, hospital."
Mr Blair was appointed for a three-year term in September 2015.
Mr Hodgson was unavailable for comment as he was travelling.
Southern Partnership Group (SPG)
• Set up in 2015 to work with  Ministry of Health to oversee rebuild of Dunedin Hospital. 
• Technically provides governance while ministry is project manager.
• SPG's effectiveness and exact role have at times been unclear.
• Partnership groups  established by the previous government to increase central control.
• Criticised for not being upfront about delays and the rebuild process.
• Only one of its original members had been Dunedin-based.
• A similar arrangement in Canterbury was criticised in an audit report for confusion  about responsibilities.
Timeline
2014: Southern District Health Board plans for long-awaited hospital redevelopment, saying it is 10 years from completion. At this stage, it is just the clinical services building. Then health minister Tony Ryall promised the business case would be finalised in 2015.
2015: Project on backburner as DHB gripped by financial issues despite headlines about the hospital leaking. A partnership group comprising mostly North Island members is appointed.
2016:  Assessment reveals "crumbling" clinical services building at risk of an abrupt failure but little happens to progress matters.
2017: The then government stalls on confirming the project is now a full rebuild, before announcing details just before the election, including a tripling of the budget.
December 2017: Health Minister David Clark appoints Labour stalwart Pete Hodgson as rebuild chairman.