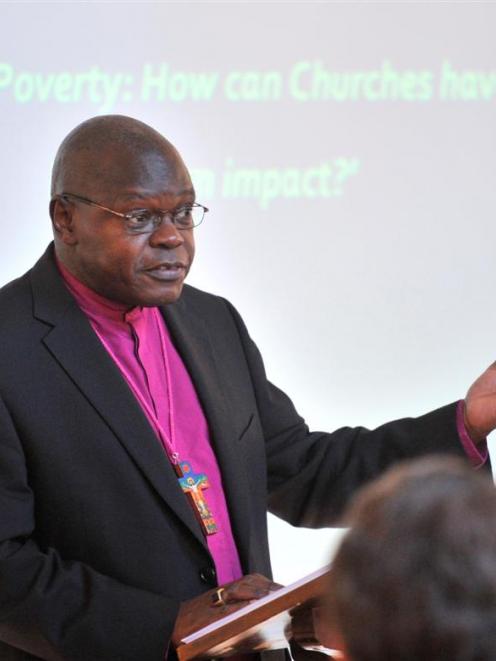 To overcome poverty, we must first ''overcome our poverty of vision'', the Archbishop of York, the Most Rev Dr John Sentamu urged in Dunedin yesterday.
In a hard-hitting address to a University of Otago symposium on poverty, Archbishop Sentamu, the second-highest ranked bishop in the Church of England, warned poverty was growing in parts of the developed world, including Britain.
And poor people in some developing countries were being ''robbed twice'', he said.
Some big multinational corporations were not paying fair tax rates in those countries, he said, and some corrupt officials were also lining their own pockets at the expense of the poor.
Such manipulative tax practices and other abuses were reducing the funding which the poor should be receiving for healthcare, education and other services, as well as to support local jobs and a more sustainable economy, he said.
''To overcome poverty, we've got to overcome poverty of vision.''
''Every person matters and none is expendable.''
Archbishop Sentamu's keynote address began a one-day symposium, titled ''Poverty, Global and Local'', at the University of Otago yesterday morning.
And he gave his talk, titled ''Tackling Poverty: How can Churches have a long-term impact?'' to about 50 people at St Margaret's College, a university college of residence.
Poverty was a major worldwide issue, and in Britain he urged a return to the vision of inclusive social justice that had inspired the founders of the British welfare state.
Although British residents were in real terms now four times better off than they were in 1948, many people were nevertheless experiencing poverty and social exclusion.
He emphasised the importance of the Church of England acting locally, as well as internationally, and also highlighted the importance of the campaign for a living wage in Britain, including in his home city of York.
It was the first city in Britain to adopt a living wage policy and he noted the living wage campaign was being promoted in New Zealand.
Despite the size and complexity of poverty issues, he remained optimistic about promoting the ''wonderful message of Jesus'' and the Church's role in giving a voice for those made ''invisible and voiceless'' by poverty.
The world was ''so beautiful and wonderful that everyone should be enjoying it''.
He has been made a Fellow of St Margaret's College, and is spending two weeks in Dunedin as the Harold Turner Visiting Fellow at the university's Centre for Theology and Public Issues.
• Archbishop Sentamu also took part in a public discussion at All Saints' Church, Dunedin, at 4.30pm yesterday.