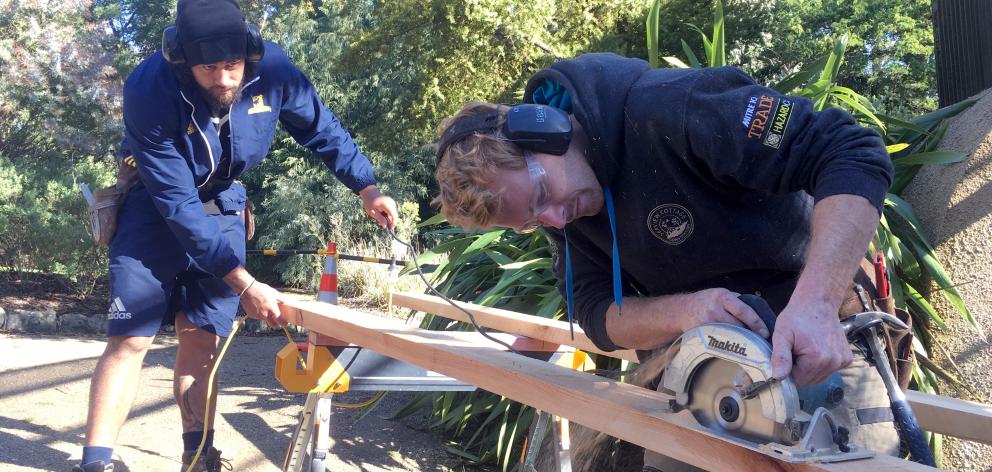 The Highlanders lent their strength to an exciting construction project at the Dunedin Botanic Garden this week.
Lock Tom Franklin, and loose forwards Dan Pryor and Jackson Hemopo, who are wildlife hospital ambassadors, were working alongside Dunedin construction firms Action Engineering and Seaview Cottage Construction Ltd on Wednesday to convert space in the garden's large "free flight'' aviary into rehabilitation space for forest birds recovering after treatment at Dunedin Wildlife Hospital.
Both companies are staunch supporters of the wildlife hospital, and are covering the cost of the construction work as a donation.
The Highlanders formed a community partnership with the wildlife hospital in January, and players have put in many volunteer hours since then.
Hemopo, of Palmerston North, said he was finishing a building apprenticeship and was "happy as'' volunteering his time to work on the aviary yesterday.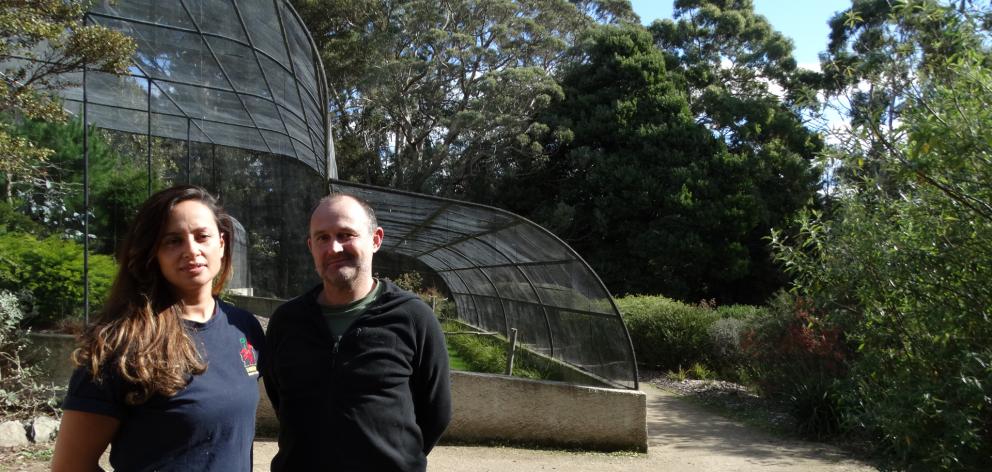 Dunedin Botanic Garden aviary curator Alisha Sherriff said the two organisations had a close relationship and wildlife hospital vet and avian specialist Dr Lisa Argilla had been able to help out with treatment for some of the aviary's 150-plus birds in recent months.
"It has been a great help for us to have a specialist like Lisa here in Dunedin, so we are very happy to be able to help out with rehabilitation for wildlife hospital patients,'' Ms Sherriff said.
"It will be a privilege for us to support them, and it fits in well with our commitment to conservation.''
The large aviary in the upper garden is being divided into four individual spaces to house-recovering forest birds such as kereru, tui, bellbirds, and others treated at the hospital.
It will also act as a "soft release'' site, giving the birds the chance to acclimatise to the outdoors before their release back into the wild.
It is expected the rehabilitation aviary will be able to accept the first birds in May.
Dunedin Wildlife Hospital co-chairman Steve Walker was thrilled to have the support of the Dunedin Botanic Garden, the Highlanders and the local construction companies to create the rehabilitation space.
"With the large number of patients that we are experiencing at the hospital, space is at a premium, so having this facility for rehabilitation will be fantastic,'' he said.
"And it will be a great step on the road to recovery and returning to the wild for some of our patients.''
BRENDA.HARWOOD @thestar.co.nz