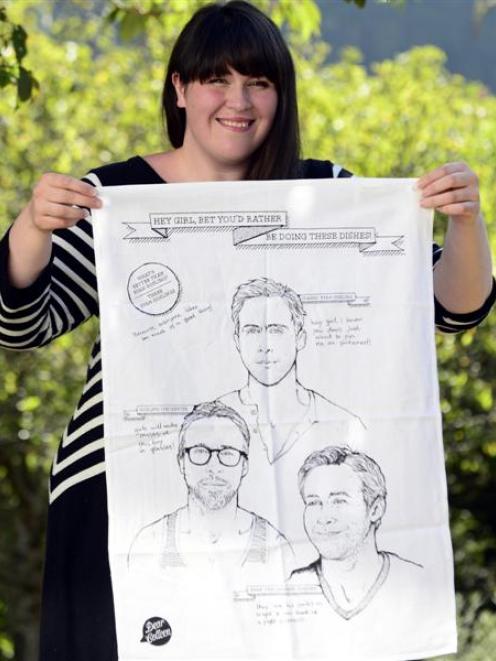 As far as gifts go, the humble tea-towel is usually a safe bet when it comes to eliciting indifferent reactions from the recipient.
But when Hollywood heart-throb Ryan Gosling was presented with a tea-towel created by witty Dunedin designer Colleen Pugh, the response was one of utter embarrassment.
The tea-towel features three hand-drawn versions of Gosling, along with the comical line ''Hey girl, I bet you'd rather be doing these dishes''.
It was given to the actor yesterday during an interview by a Rotten Tomatoes reviewer for Gosling's new film Gangster Squad. The mortified actor buried his face in his hands before crying: ''It's like looking at the sun - I can't stare directly at it.''
Miss Pugh (33) is revelling in the resulting media attention the associated video has created.
After watching the interview from her Northeast Valley home, she knew exactly how Gosling felt because she, too, was feeling embarrassed, she said.
''This is the biggest thing that has ever happened to me.
''I'm in shock really. It's absolutely incredible.
''I felt as embarrassed as he did when I saw the interview.
''I'm a fan - he's easy on the eye. He's No 1 with lots of women I know.
''The tea-towel is maybe a bit creepy, but I can assure you I'm not a stalker.''
Despite the embarrassing moment, Miss Pugh said she was enjoying all the media attention, and the other upside was people had been contacting her from around the world on social networking websites, congratulating her and asking for orders of her products.
Her tea-towels and prints are popular - particularly the ones with the slogan: ''When life hands you lemons, make a gin and tonic''.
She sells thousands each year and, since the Gosling interview, had received the same number of orders in 24 hours that she would usually get in two months.
''This was all totally unexpected. Now, I have to figure out how I'm going to get through all the orders.
''I'm only one woman.''
Inspiration for the tea-towel, and her other printed products, came from her well-honed sense of humour.
''Ever since I was a little kid, I've been into jokes.
''I think that doing funny stuff is hard to do. People like to feel good and have a laugh - that's why people like my stuff.''
Not content with her sudden rise to prominence, she now plans to design a similar tea-towel with a James Bond theme.