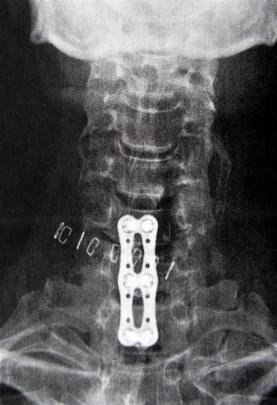 Lying on his back, alone in the middle of Ross Creek Forest, Nick Cornish's first thought after falling from his mountain bike and breaking his neck was: ''Can I feel my feet?''
"My second thought was: 'Damn it, now I won't be able to play with the New Zealand Symphony Orchestra next week'.''
The accident in early November left the Dunedin oboe, saxophone, flute and bassoon player with a fracture/dislocation of the C6 and C7 vertebrae in his neck and a chipped T11 vertebra in his back.
Since then, he has been at the Burwood spinal unit in Christchurch and had operations to stabilise his neck.
Mr Cornish considers himself lucky to have been able to relearn how to do basic things such as walk and go to the toilet.
Unfortunately, the neck injury has damaged the nerves in his arms, leaving him wondering if his fingers will be able to again play his instrument of choice - the oboe.
"The first day I stood up after my staring-at-ceilings period, I was surprised at how disconnected my head felt from my feet.
"Now, I'm back on my feet again and happily striding around, those anguished first moments are beginning to fade.
"The grief that I have been experiencing at the loss of my finger extension and loss of my voice, however, are still very real.''
Mr Cornish had been one of Dunedin's busiest musicians, performing weekly with the Southern Sinfonia, the Subject- 2Change jazz, Latin and fusion sextet, theatre productions such as the recent Phantom of the Opera and a number of small ensembles around the city.
He also plays with the New Zealand Symphony Orchestra from time to time and had been due to perform Stravinsky's Rite of Spring in Wellington the week following his accident.
Mr Cornish said he had tried to play his oboe again in recent weeks, and while it was not to his usual professional standard, he believed it would only be a matter of time before he was able to perform publicly again.
"My fingers will take longer to regain the extra 10mm flexion required for oboe playing.
"At the moment, the nerves down both arms are affected.
"They feel sluggish. My fingers are constantly tingling.
"My playing was a little bit shocking. I couldn't actually hold my oboe the first time I tried to play it again.
"But I've played again since then and I was slightly better, so ...
"My feelings of loss are only tempered by the experts telling me it will return in due course - in weeks, months, maybe years.''
Mr Cornish has been discharged from Burwood and he returned to Dunedin this week to continue his recovery.
He paid tribute to the new friends he made at Burwood.
"I'm really lucky to be here, to not have broken my neck completely, and to not be in a wheelchair.
"I've just spent four weeks of my life with people in wheelchairs, talking to them, and their attitude is unbelievably positive. They just glow ... they just shine out of their wheelchairs.
"You can only be humbled by them, honestly.
"I'm very lucky the accident didn't leave me in a worse place.''
Mr Cornish said he was an experienced mountain biker and had raced alongside elite athletes in regional competitions.
But on the day of his accident, he was riding a new bike on a track in Wakari he had only ridden once before.
He was going too fast through a dip and, before he knew it, he became airborne, lost control of the bike and went head-first into a bank.
Asked whether he would get back on a mountain bike, Mr Cornish nodded vigorously, saying he was unlucky to have crashed.
"I would get back on my bike today if I could.''