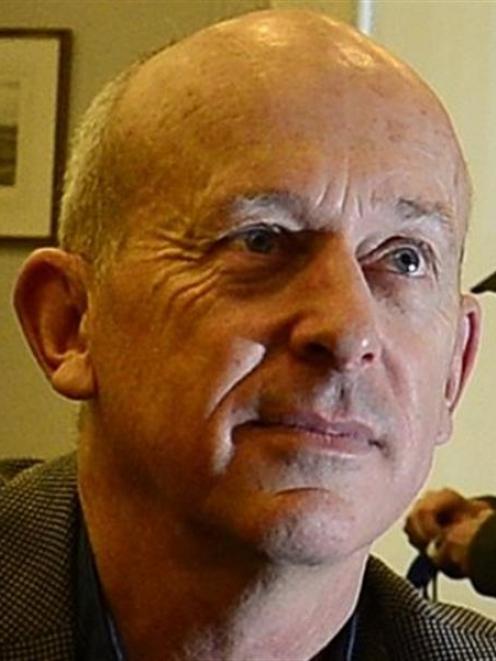 Dunedin could secure a lucrative slice of China's expanding outbound tourism market by saying yes to a five-star, $100 million waterfront hotel, a hearings committee has heard.
And the company behind the proposal - Betterways Advisory Ltd - has already begun talks with two potential operators who could bring international branding to the project.
However, Betterways director Steve Rodgers has ruled out redeveloping the former chief post office building on Princes St, and rejected other sites around the city, saying they lacked a "five-star setting".
The developments came as the company's bid to build a 28-storey hotel and apartment tower at 41 Wharf St went before the Dunedin City Council's hearings committee for the start of a resource consent hearing yesterday.
The controversial project has attracted 507 submissions - 457 of them opposed - and a council planner's report recommended consent be declined, amid concerns about the hotel's height and dominant appearance.
The first day of the public hearing was the chance for Betterways to present its case, backed by expert evidence, to the committee of chairman Cr Colin Weatherall, Crs Andrew Noone and Kate Wilson and independent commissioner John Lumsden.
Betterways' opening salvos will conclude today, before the first of more than 100 submitters expected to address the committee have their say.
Hotel and tourism industry consultant Stephen Hamilton, of Auckland, told the committee yesterday Dunedin's lack of quality accommodation - including the absence of a five-star hotel - meant it was at a "significant disadvantage" when competing with other New Zealand destinations to attract tourists.
That was particularly true for the growing number of upper and middle-class Chinese travellers, who had high disposable incomes and wanted high-quality accommodation offered by recognised brands.
Tourism New Zealand was already targeting the luxury end of China's visitor market, but Dunedin was "not currently well positioned to capture such China visitors", he said.
The main constraint - "and a significant one" - was the quality of hotel rooms in Dunedin and lack of well-known international brands, he said.
Most Chinese tourists did not include Dunedin on their short New Zealand itineraries, but the city's "competitive strength" could be an internationally recognised five-star hotel, he said.
Achieving that would be a "big step" forward for the city, and Dunedin was "very fortunate" to have an investor prepared to take the financial risk, he said.
The hotel would be "the single most significant asset" Dunedin needed to improve the competitiveness of its visitor industry nationally, and grow "new" visitor arrivals to Dunedin over the next decade, he said.
"This is a very strong opportunity which Dunedin should embrace and facilitate to the greatest extent possible."
Betterways' solicitor, Phil Page, began yesterday's hearing by acknowledging the appearance and design of the proposed tower would be the "front and centre" issue to be considered during the hearing.
He was confident any other issues of concern - other than the hotel's size, scale and footprint - were "eminently fixable".
Mr Rodgers said construction of the hotel - if approved - would take about two years, meaning construction jobs followed by a continuing economic boost from the hotel's operation.
However, Betterways was set on developing the Wharf St site, despite public concern about its size, location and impact on harbour views and nearby heritage buildings.
Other sites had been "considered and rejected", including the former chief post office building and the Otago Regional Council's proposed waterfront headquarters site, Mr Rodgers said.
The condition of the former chief post office building, together with its size and location, meant its interior would have to be "gutted" to accommodate a five-star hotel, "and leaving just the facade would destroy the look of the building".
The ORC site's shape and orientation did not provide "premium" harbour and city views, while land around the Forsyth Barr Stadium and elsewhere along the waterfront was too far from the central city.
The committee also heard detailed evidence from project architect Jeremy Whelan, of Ignite Architects, who defended its design.
The modern structure "does not intend to mimic or respond" to surrounding architecture, and a high-rise hotel allowed city and harbour views - as well as room rates - to be maximised, he said.
Acoustic consultant John Farren, of Marshall Day Acoustics, was confident the hotel's design could adequately protect
against noise and vibration from passing railway and vehicle traffic, but Betterways was also prepared to enter into a "no-complaints covenant" with KiwiRail.
Transport engineer Andrew Carr said the hotel could be built without causing capacity, efficiency or road safety issues for the adjacent roading network.
Potential site access problems for service vehicles were not significant, but could be addressed by a traffic management plan and site access plans approved by the council.
The hearing would continue until Thursday and then resume on December 17, when up to three further days were available if needed.