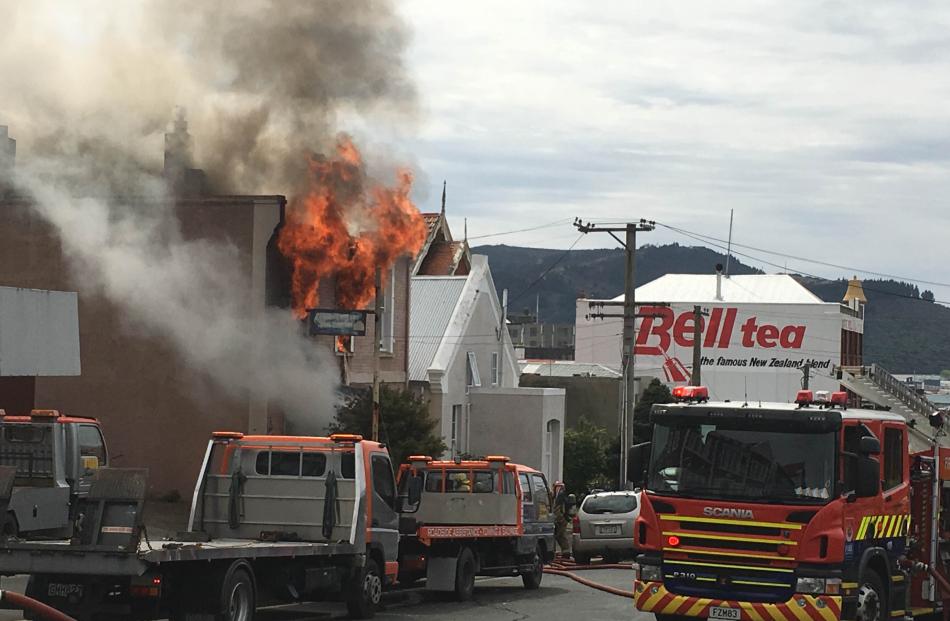 A woman had to jump for her life from the second storey of a Dunedin flat as it became engulfed with flames.
Five fire appliances were called to the blaze, which started just before noon on Sunday, and "totally destroyed'' the Carroll St flat as about 100 onlookers gathered on the street.
Crews were called to the property near the Exchange about 11.50am.
Senior Station Officer Justin Wafer, of Dunedin Central, said a woman, had to jump from the second storey as flames engulfed the flat in what he called a "significant structure fire''.
A man, believed to be the woman's partner, was on the ground floor when blaze started and was among three people who caught her after she jumped.
He did not jump from the second storey as was earlier reported.
Mr Wafer praised the actions of those who caught her as "very brave".
The couple were seen embracing and looking shocked outside while firefighters contained the blaze.
A St John ambulance spokesman said the woman was assessed at the scene and did not require further treatment.
Mr Wafer said the fire was quickly contained by crews, but not before it gutted the flat leaving only "bare brick'' behind.
"All the contents, wall linings and ceilings, furniture, are all totally destroyed.''
The connected neighbouring flat had significant smoke damage, as well as some heat and water damage.
The cause of the fire remained unknown, and Mr Wafer could not confirm speculation from neighbours that it started in the kitchen.
"We believe that it has started in the ground floor and the fire has travelled upstairs where the occupants were at the time of the fire. They as a result have had to jump from the buildings.''
The fire could have "absolutely'' resulted in a terrible outcome, and served as a timely reminder to have smoke alarms installed and regularly test them.
Firefighters could not tell whether the smoke alarms in the flat were working because it was so badly damaged, but the neighbouring flat did have working alarms.
An eyewitness earlier told the Otago Daily Times large flames had been coming out of the top of the building but the blaze had been brought under control quickly. The flat was likely to be historic, they said.
Another neighbour reported hearing a loud bang as the fire quickly ripped through the flat.
Crews were dampening down hot spots on Sunday afternoon.
Earlier, firefighters using a ladder truck removed some of the roof where the fire was still smouldering more than half and hour after the rest of the fire was mostly out.