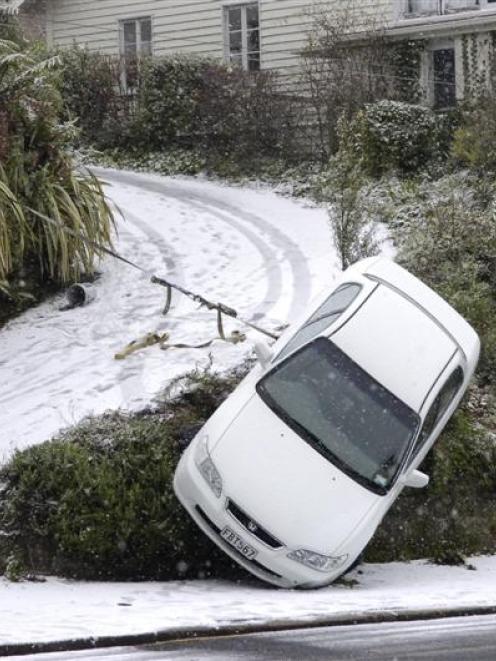 Icy night-time driving conditions kept several state highways around Dunedin closed last night, after snow and sleet showers earlier in the day created havoc in the region for motorists.
Heavy snow shut down the Northern Motorway between Dunedin and Waikouaiti from yesterday evening, with State Highway 1 to remain closed until further notice. State Highway 1 between Dunedin and Gore was also closed.
The Northern Motorway reopened this afternoon.
Last night, SH6 between Queenstown and Five Rivers, SH87 from Outram to Middlemarch, SH85 from Palmerston to Kyeburn and SH94 from the lower Hollyford turn-off to Milford were all closed until 8am today.
The New Zealand Transport Agency advised towing restrictions were in place and chains were essential for vehicles travelling on SH95 between Te Anau and the lower Hollyford turn-off, SH6 from Five Rivers to Dipton, SH93 between Clinton and Mataura, and SH94 from Mossburn to Te Anau.
The Dunedin City Council advised road closures were in place because of ice at Three Mile Hill, Highcliff Rd, Castlewood Rd, including Camp Rd, and at Mt Cargill.
A Queenstown Lakes District Council road advisory notice at 5pm yesterday recommended all vehicles carry chains, with "ice likely" on the Cardrona Valley Rd and between Wanaka and Lake Hawea. Chains were essential for vehicles travelling the Crown Range, the QLDC advised.
Ice was also likely on routes between Queenstown, Kingston and Fernhill, while "extreme care" was advised by the QLDC for motorists travelling to Arthurs Point or Glenorchy.
The Central Otago District Council had no road-closure notices, although it advised all vehicles to carry chains, with ice likely on roads throughout the area.
Dunedin, Central Otago and Queenstown police advised people to stay home unless it was vital they travelled.
Two Dunedin Cadbury Chocolate Carnival events have been postponed, organisers said yesterday.
The Cadbury Crunchie train trip from Dunedin to Hindon, scheduled to depart at 8.30am today, had been postponed until Wednesday, co-ordinator Lee-Anne Anderson said.
The Chancarla Farm Park tour from 10am to 3pm today had been postponed until the same time tomorrow, she said.