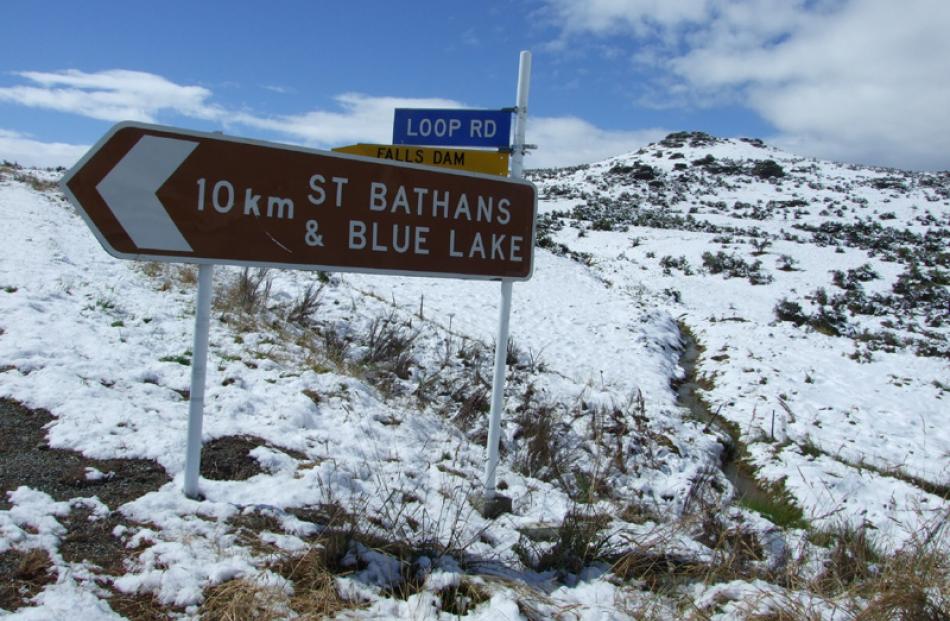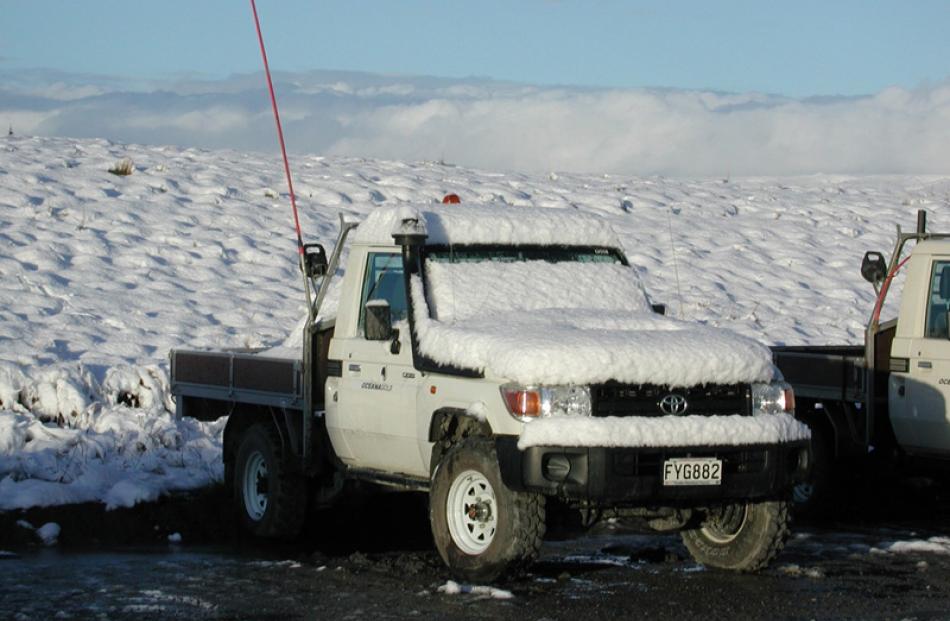 Welcome to Central Otago at the height of summer - 25degC one day, snow the next.
Residents who have been basking in one of the hotter summers had to swap jandals for gumboots yesterday, as a cold snap brought between 7cm and 10cm of snow to parts of the Manuherikia and Ida Valleys, the Maniototo and Queenstown.
About 10cm of snow closed Danseys Pass for several hours yesterday morning. Tree branches around the Maniototo were also snapped off.
"The last time we had snow in January? Goodness knows ... I can remember it once snowing on Christmas Day, but that's all," Stewart McKnight, of Ranfurly, said.
Danseys Pass farmer Ross McMillan said the unseasonal snowfall was "very rare."
"I've lived here 82 years and can remember it snowing once on Christmas Day and once on New Year's Eve, but nothing like this today - we've got about 4in [10cm] of snow here."
Niwa statistics show Ranfurly's temperature plummeted from a high of 21.5degC on Wednesday to -.5degC on Thursday night, while Lauder went from a high of 25.1degC on Wednesday to zero the next night.
Both areas were still coated in snow yesterday morning.
Snow was well down on Central Otago hills and the temperature dipped to 2.8degC in Alexandra and 2.6degC in Roxburgh on Thursday night.
Oturehua Tavern publican Grahame Jones said snow started falling in Oturehua about 9pm on Thursday.
"We had a snow fight outside at midnight. I can't recall the furniture in the beer garden ever being covered by 3in of snow in January ...
"We've had the odd skiff of snow in January but nothing lying on the ground like this."
Summerfruit New Zealand president Gary Bennetts said the cold spell was unlikely to cause problems for stonefruit growers.
At Coronet Peak, at least 10cm of new powder fell, with dozens of visitors taking the chance to play in the unexpected snow.
Tyler Austin (11), on holiday with his family from Queensland, Australia, was in his element as he experienced snow for the first time. "It's awesome," he said.
The Remarkables skifield at Queenstown also recorded 5cm.
In Wanaka, there was a light dusting on Mt Roy and on Treble Cone, but after a brisk start to the day it soon disappeared, with the temperature heading towards 20degC by mid-afternoon.
There were light dustings of snow on the mountaintops around Omarama and the Mackenzie Basin, but it soon melted in the mostly sunny weather.