Dunedin will remain chilly for the rest of the week after a southerly blast slammed the door on the city's long hot summer yesterday.
MetService meteorologist Ravi Kandula said the southerly would strengthen through much of today, reaching gale force around Otago Peninsula before dying off this evening.
The cold snap has prompted snow and ice warnings for some southern highways today (check highway conditions here).  
Mr Kandula predicted frequent showers this morning with snow to 500m lifting, but temperatures were unlikely to exceed 11degC or 12degC until the end of the week.
"This strong cold air mass isn't going anywhere.''
After another period of rain tomorrow, the city would receive a brief respite for the start of the school holidays, he said.
MetService predicted the city would enjoy a high of 18degC on a partly cloudy Monday before southwesterly showers set in on Tuesday, turning westerly and lingering until at least Thursday next week.
The first day of the big chill yesterday brought a light dusting of snow down to 300m, which settled on the Northern Motorway and around Clarks Junction on State Highway 87, together with a smattering of hail in the early morning.
State Highway 1 between Pine Hill and Palmerston remained subject to an area warning for snow through much of yesterday, and trucks were seen clearing parts of the Northern Motorway just after dawn.
Dunedin City Council transport delivery manager Josh von Pein said its contractors were out checking roads yesterday morning, ready to clear city roads if needed.
"We had snow and hail on some roads, but it cleared fairly quickly and the trucks were not needed.''
Hailstorms, however, caused significant delays for city buses operating in hill suburbs early in the morning, before services returned to their normal schedules by 10am.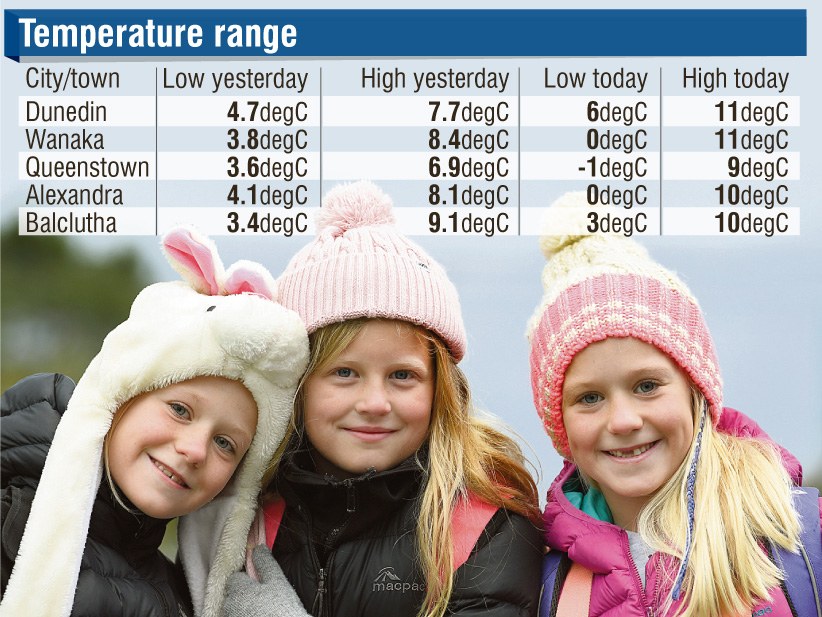 Later in the day, about 4pm, another short and sharp burst of hail led to a driver being taken to Dunedin Hospital with minor injuries after they lost control of their car and crashed into a building on the corner of Taieri Rd and Nairn St.
The same brief hailstorm caused another motorist to lose control of their car in Pine Hill, while numerous vehicles, including an ambulance, struggled to maintain traction as they climbed through the slush on Stuart St towards Roslyn.
Further inland, the Wakatipu was buffeted by strong southerly winds early yesterday before residents woke to a sprinkling of snow on the ranges. The Crown Range alpine route remained clear.
A Central Otago District Council spokeswoman said the council spoke to its roading contractor, Fulton Hogan, and there was a light dusting of snow around the high country passes yesterday.
She said they had no concerns and Fulton Hogan would continue to monitor the roads as the front moved through. Wanaka was unaffected by the snow.
Overnight, a blanket of more than 75cm of snow fell in much of the Canterbury plains and Mackenzie High Country.
Stormy weather unleashed tornadoes on other parts of the country yesterday, cutting power to more than 12,000 Taranaki homes and rendering some homes uninhabitable in National Park.
Fire and Emergency New Zealand responded to callouts in the Ruapehu and Taranaki districts after at least two tornadoes tore through the area.
A welfare centre has been set up in National Park, with four families rehomed and 11 houses deemed uninhabitable.
At least half a dozen houses lost their roofs in the Taranaki town of Rahotu yesterday. An emergency operation centre has been set up at Rahotu school.
In Wellington, all Cook Strait ferry crossings were cancelled yesterday and last night there were reports of high winds and flooding in the upper North Island.
- Additional reporting Guy Williams, Tom Kitchin, Mark Price, NZN