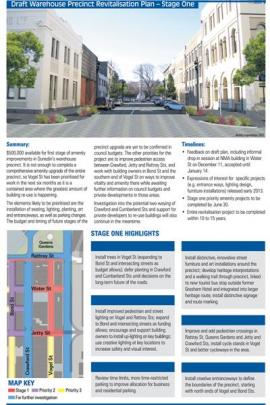 Art, design and creating a distinct identity are central to a draft plan for revitalising Dunedin's central city warehouse precinct.
The draft warehouse precinct revitalisation plan proposes a welcoming, artistic area, not unlike that of Christchurch's old Arts Centre or Auckland's Britomart, which includes distinctive innovative street furniture, lighting, art installations, trees and creative entrance ways.
The Dunedin City Council's policy planner (heritage), Dr Glen Hazelton, released the plan recently, calling on Dunedin residents to have their say on it before January 14.
At this stage, the proposal was to first upgrade amenities in the Vogel St area, where significant private development was already happening, he said.
Focusing on Vogel St first meant the council could have a bigger effect in a small area and was less constrained by big development projects that might be planned in the future and could require reworking of amenities as a result.
The amenity work would be funded from the $500,000 set aside in the council's budget for improvements in the precinct this financial year, although the council was open to sponsorship and partnership arrangements to see projects happen more quickly than its budget alone allowed, Dr Hazelton said.
The work to be done before June next year was likely to include planting trees and installing seating, lighting and paving along Vogel St, planting trees at the northern entrance to Bond St and widening pavements, reviewing parking arrangements in Vogel St, and improving pedestrian access to the area.
There would be a significant focus on integrating art and design into amenity improvements and creating a distinctive visual identity for the precinct, including creative entrance ways and the installation of art works.
The investigation into making Crawford and Cumberland Sts two-way and support for private developers to upgrade and reuse heritage buildings in the area would continue this financial year as well.
Working with the polytechnic and art school to undertake temporary installations in empty spaces in the precinct, and with Sammy's nightclub to upgrade the building and improve the use of the space as a long-term entertainment venue, were other options that could be prioritised, as could encouraging the use of Queens Gardens and Vogel St for events.
A better harbour basin pedestrian link was something to be investigated in the future but signage and lighting would improve awareness of, and safety on, the connecting Cumberland St overbridge in the meantime, the plan said.
Dr Hazelton encouraged people to read the draft plan, which was available from the council or on its website, and give their feedback either at an informal drop-in session at the NMA Building in Water St between 4.30pm and 6.30pm on December 11, or verbally or in writing to the council directly by January 14.