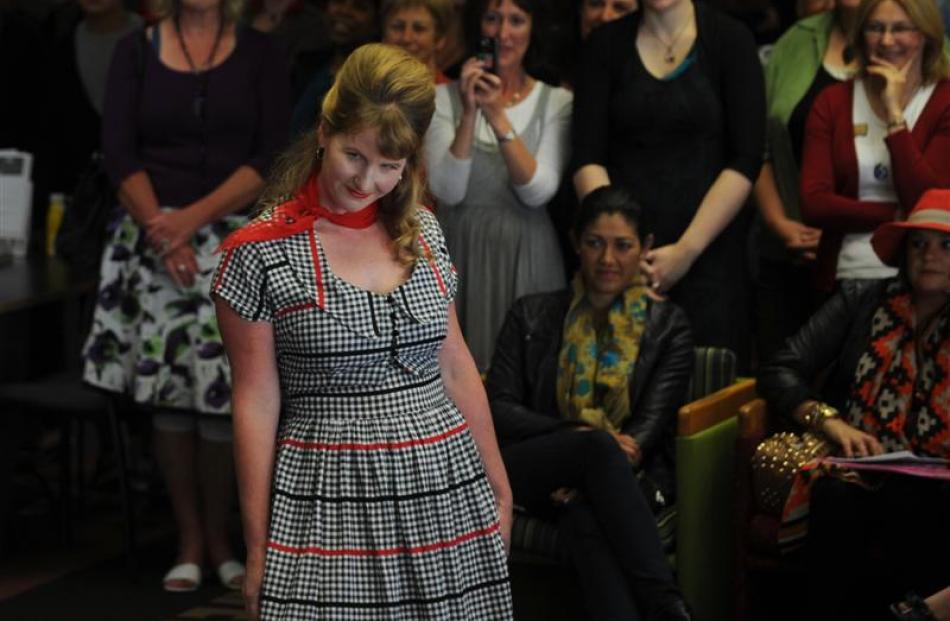 It was all about style in the stacks of the Dunedin Central Library yesterday, when 14 library staff were transported from "geek" to "chic" as part of iD Dunedin Fashion Week.
"It's so nice. I've been toying with buying it and just wearing it to work sometimes," Geek-Chic Fashion Show organiser and Dunedin Public Libraries marketing co-ordinator Lynette Hartgill said of the tight pink lurex pencil skirt, twinset and pearls she modelled on a temporary catwalk on the library's ground floor in front of 160 people.
It was the second time she and her colleagues volunteered to ditch their everyday work outfits, and don the glamorous and colourful vintage clothing of the 1940s to the 1960s for the catwalk show.
"It was so much fun," she said afterwards.
This year, more library staff, including Dunedin library services manager Bernie Hawke, volunteered to be models.
Everyone enjoyed helping choose their outfits, and getting their hair and make-up done in the styles of the era, before the lunchtime show, Ms Hartgill said.
Transformed by clothes from Dunedin vintage clothing boutique Modern Miss, most were confident on the catwalk, although some appeared to want to run off and hide in the stacks.
Stacking co-ordinator Emma Milburn said it was quite funny walking around dressed up in front of so many people.
A fan of vintage clothes, she had chosen her outfit, although she was unsure about it as it was close to something she would wear anyway.
"I loved it," she said.