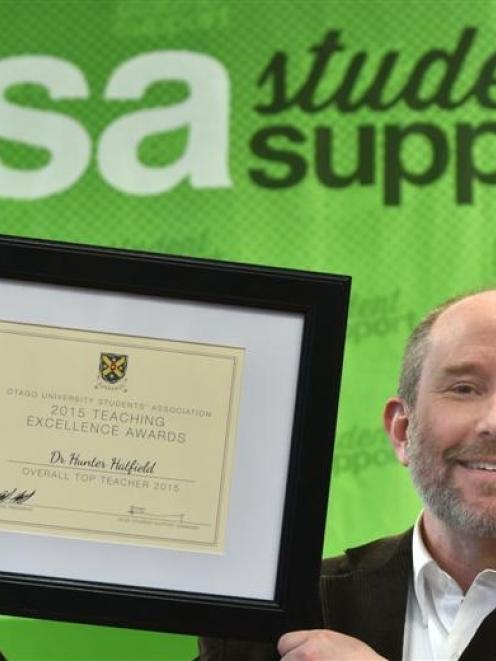 Linguistics lecturer Dr Hunter Hatfield yesterday won the 2015 ''overall top teacher'' title at the Otago University Students Association's annual teaching awards.
United States born, Dr Hatfield has a PhD from the University of Hawaii and joined the University of Otago English and linguistics department staff in 2011.
Dr Hatfield (42), who received the award from University of Otago vice chancellor Prof Harlene Hayne last night, said he had been ''quite surprised'' to win the award.
''I'm never satisfied with my lectures - I'm always trying to make them better,'' he added, after the campus awards function.
Winning the award would encourage him to continue to strive for further improvement, he said.
He was trying to provide ''better education'' in linguistics, but was not trying to create a large number of linguistic specialists, he said.
But written comments by many of Dr Hatfield's students to award organisers clearly showed their satisfaction levels with his lectures far exceeded his own.
One student said Dr Hatfield was ''full of life and optimism'' and an ''absolute character'' who encouraged his students to work hard in class by providing a fun experience and his humour sparked ''fits'' of laughter, including by use of ''strange yet delightful music videos''.
Another student said he was ''an exemplary lecturer'', and ''humble, humorous, highly intelligent, enthusiastic''.
The other nine members of the award top 10 shortlist of teachers were: Peter Barton, German; Associate Prof Nathan Berg, economics; Dr Ben Schonthal, religious studies; Haruko Stuart, Japanese; Nicola Beatson, accounting and finance; Prof Tony Binns, geography; Tony Zaharic, biochemistry; Dr Matt Bevin, medicine second year; Dr Sheila Skeaff, consumer and applied sciences.
The best tutor/demonstrator award was shared by Althea Blakey, medicine second year; and Megan Anakin, education.
Other awards: most inclusive teacher 2015, Dr Bradley Hurren, anatomy; OUSA prerogative award 2015, Dr David Bishop, marketing.
Acting OUSA president Isaac Yu said the students nominating teachers for the awards had praised a range of appealing aspects of teaching, including swiftness and efficiency in marking, and inspirational lecture presentations.