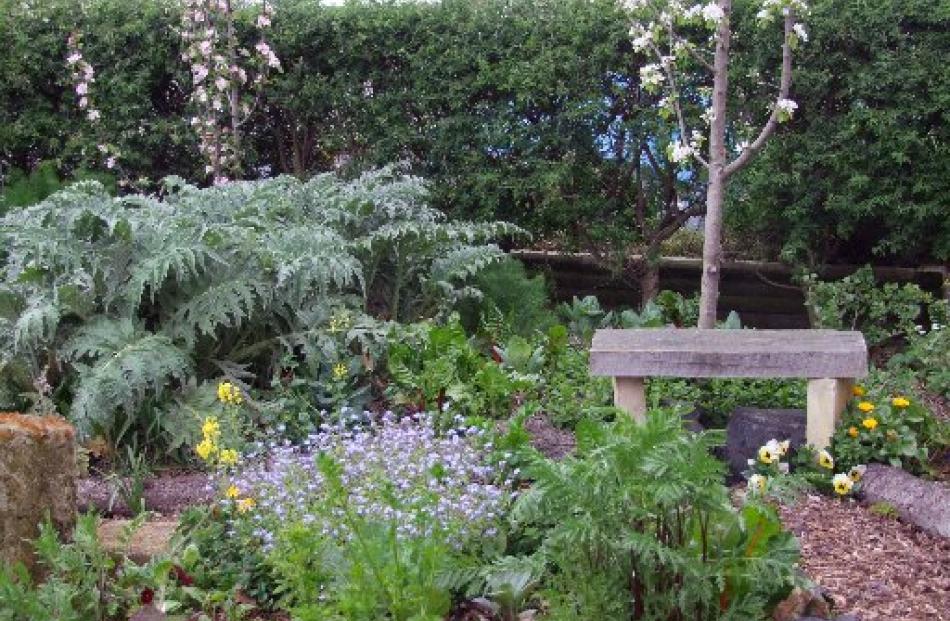 Going green at all levels is the aim of Otago Polytechnic's Living Campus. Gillian Vine reports.
It started quietly about five years ago with a School of Natural Resources permaculture garden in Anzac Ave and now Living Campus covers all of Otago Polytechnic.
The first such venture in New Zealand or Australia, the aim was twofold - putting ''green'' ideas into practice at every level and raising student awareness of sustainability in the hope they would carry forward what they learned after completing their courses.
Supported from the top by chief executive Phil Ker, the polytechnic has ungraded its heating system, replacing coal-fired boilers with wood-chip ones. As well as reducing air pollution and using a renewable fuel source, it produces wood ash, being tested for use on gardens.
Recycling is wide-ranging. Not only is glass, plastic, paper and cans recycled but cooking oil and organic waste are too. Shredded paper is used in a chook run and when the hens have finished with it, the enriched paper goes into the compost.
Composting options are demonstrated through stacked bins, bokashi systems and worm farms, while green waste unsuitable for composting on campus is gathered in a large skip then shredded and composted at the Dunedin City Council landfill site.
Catching rainwater to reduce dependence on town supply is planned and this will also reduce electricity usage, as currently water used in making compost tea has to be agitated by a powered unit to eliminate chemicals, such as chlorine, that negate bacterial action.
Beekeeping is also on the agenda.
More visible to most, because of the planting on the Harbour Tce side of the main campus, are the gardens that, according to horticulture tutor Kim Thomas, merge ''ornamental and edible [plants] in a sustainable way''.
A recent presentation co-ordinated by third-year occupational therapy students Gabrielle Seator and Victoria Lindsay as part of a community paper marked five years of the Living Campus.
The fun lunchtime event had teams competing in areas such as potting plants and making salads from Living Campus produce, while students looking on won prizes for their sustainability tips.
Ms Thomas has high praise for ''Organic Girl'' Michelle Ritchie, her team and the Living Campus management who have ''taken the project from good to great''.
In addition, the polytechnic's natural resources team now undertakes maintenance of the Living Campus area and the wider grounds.
''Now we can do student pracs [practical exercises] on the main campus and we're really enjoying that visibility. It's important for people to see who is doing stuff,'' Ms Thomas says.
The educators' role is to produce sustainable practitioners who will continue to use resources wisely after they complete their courses, she says.
The students can have their own allotment-style patches, too, or simply help themselves from edible gardens planted around the campus.
''The Living Campus is a wonderful resource for modern and sustainable options at Otago Polytechnic,'' Ms Thomas says.
Living Campus
For more about the Living Campus, see livingcampus.co.nz