Some people call her Ruthless. Others say she is exactly what the Dunedin City Council needs. But supporters and critics can agree on one thing - Ruth Stokes is having an impact. Chris Morris reports.
The stuff-up was there for all to see.
Cycleway symbols, stamped in bright white paint directly over older ones, leaving a trail of blurred double images along Dunedin's controversial cycleway network.
It was a shoddy effort by Downer contractors that left cyclists criticising the Dunedin City Council and its infrastructure and networks general manager Ruth Stokes seeing red.
But, unlike other council managers who might opt for a diplomatic public front, Mrs Stokes didn't hold back when contacted by the Otago Daily Times.
The work appeared to have been done by "an amateur with a homemade stencil and some fence paint'', she said.
The result left her "pretty appalled''.
"We're trying to improve the look of the city, not deteriorate it,'' she snapped.
It was a stinging public rebuke for Downer staff, but it didn't end there.
Downer's staff were ordered back on to the streets to fix the problem - at the company's own cost.
And, when some of the repairs were found not to be up to scratch, they were sent back out again to have another go.
They got it right in the end, but that didn't stop a press release, two weeks later, confirming the council would not renew Downer's $2.1 million contract covering the work.
It was swift, forthright and effective - traits that have earned Mrs Stokes praise, but also a blunt nickname from some: "Ruthless''.
The moniker has travelled with Mrs Stokes from Auckland to Queenstown, and then on to Dunedin, as she found herself at the centre of major change and upheaval in all three centres.
Mrs Stokes joined the DCC in February last year, replacing outgoing senior manager Tony Avery, who resigned following the $1.5 million Citifleet fraud.
Mrs Stokes soon found herself grappling with major civic headaches, and within months was publicly apologising over the council's bungled roll-out of the South Dunedin cycleway network.
She placed those mistakes directly at the feet of council staff, who "got it wrong'', in part due to a lack of managerial oversight.
"But we will get it right,'' she promised.
Staff were ordered back to the drawing board, while changes already introduced were ripped up.
And, a month later, the council manager with oversight of the project, transport group manager Gene Ollerenshaw, was gone, having resigned while on a family holiday in Europe.
Mr Ollerenshaw declined to comment and Mrs Stokes said at the time she "couldn't say'' whether the fallout had contributed to his decision to quit.
He had merely indicated it was "time for a change'', she said.
But, soon after, Mrs Stokes was again forced to concede contract oversight by council staff had fallen "well short of expectations'', this time during work to remove trees at Logan Park.
"I have discussed this with the staff concerned,'' she said.
And, just last month, Mrs Stokes again apologised, this time to councillors and Mayor Dave Cull, for mistaken earlier assurances from staff that South Dunedin's mud-tanks had been properly maintained.
A subsequent investigation found those assurances were wrong, and 75% of mud-tanks had not been properly maintained before last June's flood.
Mrs Stokes said the mistakes represented a "management failure'' by council staff, some of whom were now facing employment processes.
"For that I would like to, on behalf of the executive, apologise'', she said at the time.
It is the kind of public accountability that has won Mrs Stokes admirers inside and outside the council, as she drove efforts to tackle some of the root causes of the council's high-profile missteps.
Supporters described a new broom sweeping through the council, replacing shoddy practices with a higher standard of performance, accountability and public service.
But her approach also has its critics, including a cluster of past and present colleagues who worried her forthright management style was damaging morale by alienating some staff and prompting others to resign.
Mrs Stokes, perhaps because of the spotlight, has declined requests to be interviewed about her approach or her objectives this week.
Her boss, council chief executive Dr Sue Bidrose, agreed Mrs Stokes was "a hard taskmaster''.
"But it comes from a rigid public service ethic. If it's other people's money that we are spending, then she's absolutely committed to be sure we are doing it well.
"She's very clear about what she wants and she has a very good set of expectations but she has been chosen specifically for that and she's very, very good at it.
"She's exactly what we need, actually.''
Many council staff who worked with Mrs Stokes agreed - describing her clear and direct expectations but also support, guidance and praise, as long as work was on track.
They included Laura McElhone, the council's water and waste group manager, who reported to Mrs Stokes and described a manager "of the highest integrity''.
Mrs Stokes was quick to call people out for poor performance but also to praise good work and support staff, Dr McElhone said.
"She hates it when people avoid answering questions, try to blag their way out of difficult situations, or attempt to give biased or misleading information to councillors or the executive.
"Working with Ruth is quite simple. Give clear, concise, objective answers, backed up by quality analysis.
"If something goes wrong, or you make a mistake, tell her and tell her what you are going to do differently so that it doesn't happen again.
"Be accountable. Don't bull**** her, she is far too smart for that, and don't make excuses.''
But other staff spoken to - who declined to be named for fear of losing their jobs - worried her approach was damaging even if it delivered results.
"Speaking for myself, I'm absolutely s***-scared of the woman,'' one staff member said.
"You feel like if you set a foot wrong you'd be out of there.''
It is a reputation that followed Mrs Stokes from Auckland to Dunedin, after her early career in finance led to the Auckland City Council and later the amalgamated Auckland Council.
Now married with five children, Mrs Stokes graduated with an economics degree and a postgraduate certificate in public management, before taking a job with accounting firm KPMG.
She joined Auckland City Council's treasury department as a policy analyst in 1999 and later worked for Watercare Services and then Westpac, before rejoining Auckland City Council as a policy analyst from 2006.
Rising through the ranks, she become the council's arts, community and recreation policy group manager in 2007, and Auckland Council's community and cultural policy manager in 2010.
She had a taste of the headlines in 2008, fronting a council policy requiring buskers not to play the same song over and over again, and in 2012, when an email from Mrs Stokes found its way to the New Zealand Herald.
In it, she instructed council report writers to target a reading age of 13, and keep them to no more than five pages, or "I will be asleep or I have to question whether you really understand your subject''.
The suggestion prompted a public retort from the then-chairman of the Whau Local Board, Derek Battersby, who said the advice was derogatory towards elected representatives.
Soon after, Mrs Stokes arrived in Queenstown, having accepted a new role as the chief executive of Lakes Leisure.
In mid-2013, the council-controlled organisation, then responsible for the resort's public sport and recreation facilities, was brought in-house by the Queenstown Lakes District Council.
But Lakes Leisure's then-chairman, Peter Faul, described Mrs Stokes as "a breath of fresh air'', who brought "honesty'' and "frankness'' to her role, and was held "in very high regard'' by staff.
"She came across as a person who could get the job done and didn't muck around.
"She sets very high standards for herself and I would expect she would ask others to follow.''
In mid-2013, Mrs Stokes joined the QLDC as chief executive Adam Feeley, the former head of the Serious Fraud Office, overhauled the council's executive management team.
Mr Feeley did not return calls this week, while Mayor Vanessa van Uden declined to comment, citing council protocols.
But one former staff member said her reputation as a manager who could be tough and "power over'' some staff was well-deserved.
Mrs Stokes soon found herself grappling with contentious debate in Queenstown, as accusations of "bullying'' behaviour flew during a fight over the future of the district's libraries.
Nicola Martinovich, the then-spokeswoman for the Protect Wanaka Library group, said members of her group were met by Mrs Stokes while trying to enter the Wanaka library in mid-2013 to survey users.
Mrs Stokes tried to stop the survey but backed down in the face of legal advice supporting the group's actions, Mrs Martinovich said.
"She muscled up all the bullying power she could to try and tell us we couldn't do it. It was actually laughable.''
In early 2015, Mrs Stokes joined a string of senior QLDC staff opting to move on, and accepted a position at the Dunedin City Council, beginning in February 2015.
The appointment meant Mrs Stokes became responsible for $2.1billion worth of infrastructure assets and hundreds of staff, in return for an annual salary of between $190,000 and $230,000.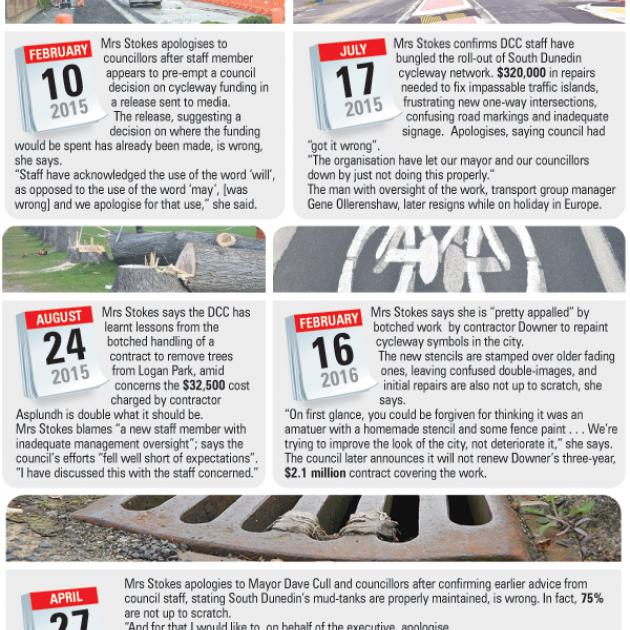 She arrived as the fallout from the Citifleet fraud rumbled on and was soon grappling with cycleway and mud-tank failings and the changes needed to address them.
Former parks, recreation and aquatics group manager Mick Reece, a 32-year council veteran, said he was impressed by Mrs Stokes.
He opted for early retirement rather than going through another round of restructuring but said it was clear Mrs Stokes was "pretty dynamic, had a clear view of where she was going and the way she wanted things to go''.
"She certainly doesn't beat around the bush, which, to be honest, I appreciated ... we've got some prize ditherers around,'' he said.
He had heard grumbles about Mrs Stokes, including from QLDC staff who described her as "a hard-nosed character who didn't mind wielding the axe''.
But he dismissed those concerns as coming from "disgruntled people''.
"I guess over the years I've heard that so often, I wasn't that impressed.''
Councils needed to restructure at times and such change brought "an extra level of trauma'' that could hurt morale, he said.
There was no doubt the DCC had lost some good staff, and it was "not nice'' for those who "found themselves in the way of a bus'', he said.
But the council needed to take tough decisions to move forward and Mrs Stokes was well placed to do that, he said.
He had warned his own staff to "get on that bandwagon'' or "maybe have a think about whether they were in the right place at the right time''.
A DCC staff member, speaking anonymously, said while the changes made sense, the way they were implemented by Mrs Stokes left some feeling like they were "part of the problem''.
"A lot of other managers probably support what she's doing and certainly a lot of the councillors do.
"But a lot of staff feel like all she's doing is supporting the councillors' belief that all staff are slack and useless at their jobs and she's the only one that can save anything.
"All the staff just get thrown under the bus.''
Former council aquatic services manager Paulien Leijnse also voiced concern at the change in management style when she resigned, when faced with redundancy, late last year.
"I'm not disagreeing with what they want to achieve but the way they want to approach it and how they do it, there's just a different style there than I am comfortable doing,'' she said at the time.
The council's transport department was among the hardest hit by change, with a string of senior staff departing.
That was believed to include transportation planning manager Sarah Connolly, who handed in her notice yesterday, the ODT understands.
She could not be reached yesterday and other staff in the department also declined to comment.
But staff in other departments leapt to Mrs Stokes' defence, including Dr McElhone, who said it was unfortunate some staff "simply don't accept'' some decisions were not made by consensus.
Others ignored guidance and instructions or provided information that turned out to be false, she said.
"The staff involved had every chance to 'get on the bus'.
"Anyone who found themselves under a bus put themselves there,'' she said.
Council parks and recreation group manager Richard Saunders said Mrs Stokes was "exceptional at what she does'' and her expectations of high performance were matched by support for staff.
"There has not been a situation I have seen that involved Ruth setting staff up to fail. That would go against everything she stands for both as a professional and as a leader.''
Councillors have praised her work, including Cr Lee Vandervis - often a vocal critic of council staff - who said she was doing a good job addressing the council's mud-tank failings.
Mayor Dave Cull said Mrs Stokes was proving to be "very effective'' in delivering much-needed change, and he regretted the criticism she faced as a result.
That change process began under Mr Orders and has continued under Dr Bidrose; they had together appointed a new breed of executive managers like Mrs Stokes.
She was fixing problems created long before her arrival but wearing some of the blame regardless, he said.
"I, to some extent, feel sorry for her ... I think she, under extremely difficult circumstances, is doing an exceptional job,'' he said.